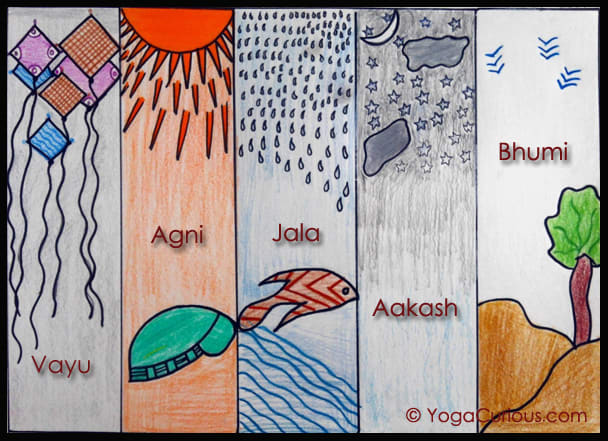 You must have heard about five elements of nature and I am sure you are having some basic understanding about it as well. When it comes to body cleansing process in Ayurveda or any other natural healing process, 5 elements of nature plays very important part. In this article, you will learn about those basic but very important concept of our body.
We do yoga to strengthen our body and we do meditation for peace of mind. But do we know about the important elements from which our body is made? In Hindu mythology, it is called "panchamahabhuta" the fiver main elements of nature.
The panchamahabhuta are the five elements of nature. According to Hindu mythology, every human body essentially are made from five elements which are Earth (Bhumi), Water (Jala), Fire (Agni), Air (Vayu) and Space (Aakash). Hindus believe that, upon death; all these 5 elements of human body are dissolved to respective element of nature, so that it can balance the cycle of nature.
Each of these five elements has its own functions and characteristic described below:
Earth (Bhumi):-
The first element of panchamahabhuta is "Earth" which is translated at Bhumi in Sanskrit. This element is perceived by five senses those are Hearing, Smell, Taste, Touch and Sight. The physical body with muscles and bones refers to Earth.
Water (Jala):-
The second most important element is "water", jala in Sanskrit. This element has no odor (smell) but can be heard, felt, seen and tasted. In human body, blood and other fluid are refer to Water. As we all studied during our preliminary school, our body is contains upto 60% of water (adult body) and very essential part of our live.
Fire (Agni):-
The next higher element in human body is "fire", agni in Sanskrit. In human body the temperature, jatharagni are refers the fire. It can be heard, felt and seen. As our digestion system is one of the example of Fire element that helps our body to digest the food we take everyday.
Air (Pavan):-
The fourth element of panchmahabhuta is "air", pavan in Sanskrit. Air can be felt and heard only; one cannot see the air. In human body, the oxygen and carbon dioxide in the body refers to Air. It is considered as one of the most important factor in Pranayama. As we know that the human body can not live without Oxygen which is known as Prana in Sankstrit and one must do the regular Pranayama to keep their body Oxygen rich that prevent many disease.
Sky (Aakash):-
The fifth and last element of panchmahabhuta is "space" which is translated in Sanskrit at aakash. Space is the medium of sound but is inaccessible to all other senses. And as in human body the Athma (Soul) refers to Space.
The combination of these 5 elements of nature makes our body and will dissolve into respective element upon death.
Do you have more information to add in this article? Please share here in comments to make it more informative.
Namaste!