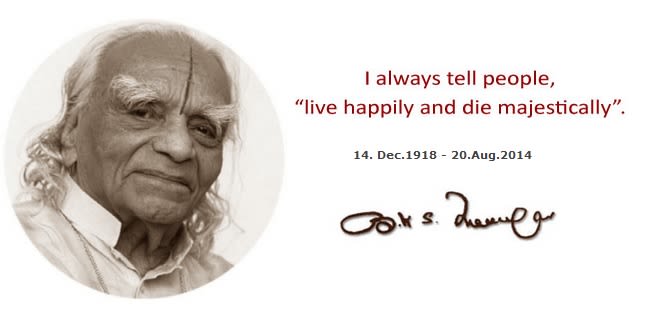 The person who spread yoga around the world and is known as the father of modern yoga passes away today in Pune, India. YogaCurious team is deeply saddened by the news of BKS Iyengar's passing and express our sincere condolences. The person who has changed the world will live on in our memory forever.
Anyone who is a religious follower of yoga will definitely know the name of Shri B.K.S Iyengar. He showed a new path of yoga to people in India as well as the whole world. 'Iyengar Yoga' is his yoga style that has gained eminence all over the world. Iyengar was extremely lucky in having Tirumalai Krishnamacharya as his teacher as he was considered 'the father of modern yoga'. Though the whole world was learning about modern yoga slowly and gradually, it was Iyengar who established the same firmly.
The yoga maestro had to struggle a lot in his initial days. Born into a poor family, he suffered from several ailments right from his childhood. Lack of nutrition and these diseases together made him a thin and sickly child. However, his life took a turn when he was asked by Tirumalai Krishnamacharya (his brother-in-law) to go to Mysore so that he could learn some yoga and improve his overall health. Slowly yoga became a part and parcel of Iyengar's life and he started giving yoga demonstrations in various places including the king's court in Mysore.
With passage of time, Iyengar started teaching yoga to people. He also started experimenting with different kinds of yoga techniques and postures and came up with new styles. 'Iyengar yoga' became extremely popular with people where the yoga guru explains as how the various yoga form unite the mind, the body and the emotions and makes a person strong from inside and outside. 'Iyengar yoga' is the perfect amalgamation of experience and research and the whole world can see the wonderful results of the same.
The popularity of 'Iyengar yoga' did not stay limited within the national boundaries and it was soon that the yoga maestro gained international recognition. The popular violinist Yehudi Menuhin opened his gates for international yoga teaching, where after he taught in many countries abroad. He also penned several books on yoga (total 14 books), their various aspects, their styles, their advantages etc. Most of the books became bestsellers and innumerable people gained from them. Iyengar contributed in a great way to the propagation of yoga in the foreign countries. Iyengar's yoga video has been also seen by millions of people around the world.
B.K.S Iyengar knew that to keep the spirit of yoga, it is important to establish some institutes and he did that. The Ramamani Iyengar Memorial Yoga Institute was started in Pune in 1975 in the name of Iyengar's late wife. Apart from this institute, there are other institutes as well that were established by Guruji and taught 'Iyengar yoga' in the best way. They are Light on Yoga Research Trust (LOYRT), Bellur Krishnamachar & Seshamma Smaraka Niddhi Trust (BKSSNT) and Iyengar Yogashraya.
Apart from teaching yoga, B.K.S Iyengar also played a great role in spreading awareness about nature conservation. He had a humanitarian side as he wanted the village of Bellur to develop with all modern facilities. Known as yogacharya by his students, and the Padma Vibhshan award winner B.K.S Iyengar passed away on 20th August 2014 in Pune at the age of 96 years. People all over the world who are related to 'Iyengar yoga' will always remember the man for his yoga style.