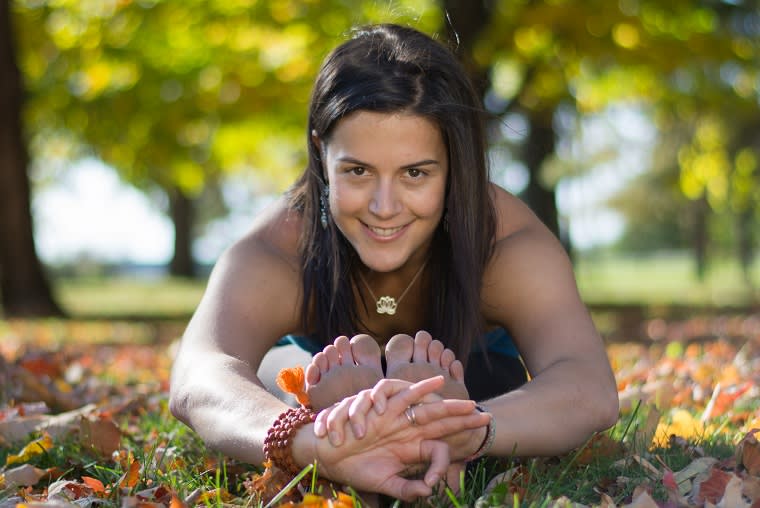 Elizabeth has been teaching yoga for 10 years. She has recently completed a Master's in Health Sciences (M.Sc.), specializing in biomechanics with the University of Ottawa. Her master's dissertation focused on describing the biomechanics of yoga movements in hopes to better describe yoga for the purpose of therapeutic interventions, medical prescription and the foundation for future research.
She uses her research experience to tailor individualized sequences for private students, create fun and safe sequences for large groups, and makes research findings accessible to the common practitioner. Elizabeth's public classes offer a strong emphasis on alignment and safety, using the practice of yoga as therapy. They are a blend of various influences, bridging modern science and traditional yogic teachings for optimal health.
Checkout His profile on LinkedIn: Elizabeth Whissell
Yetta: Namaste, Elizabeth, Please say few words about your yoga journey.
Elizabeth: Namaste. My journey with yoga began with a bang! It was love at first savasana. I had never been physically active as a child so I had never experienced the "runner's high" or the "thrill of the game" but when I awoke from that first savasana, I felt like I had been gifted a healthier body. In the 11 years since that first class, I have travelled to study with great teachers and explored restorative yoga, yin yoga, Yoga Tune Up®, vigorous practices like power and Astanga, deep meditation, various cleansing techniques (kriyas), and I have explored much of the philosophical teachings by studying with my teacher both at home (Ottawa, Ontario, Canada) and in India. I have dissected asana by studying the biomechanics of yoga postures and had the honor of winning an award at the Symposium on Yoga Research, a conference where I met great minds, hosted by the International Association of Yoga Therapists.
My practice now is personal, intimate, and on my own at home. A well deserved time of integration after such a quest for knowledge.
Yetta: What is your favorite yoga practice and how does it benefit your life?
Elizabeth: My constitution tends to lead me to complacency; therefore I limit relaxing styles (yin and restorative) and focus on more vigorous styles. I enjoy various yoga practices, my favorite being classes that encourage slow and strong postures, paired with deep meditation. Practices with my teacher, Yogirishi Vishvketu, are always a winning combination of strong and meditative.
Yetta: What does Hatha Yoga has to give the world that is unique?
Elizabeth: It's a workout and a working all rolled into one! Hatha Yoga pairs the ever sought after "work out" for physical fitness and well being through posture work (sometimes vigorous and other times delicate and restorative), with the much needed concept of "work in" for calming the mind with breathing techniques and meditation, helping to keep the body, mind, and spirit healthy.
Yetta: According to you what are the greatest health benefits of Yoga?
Elizabeth: I spent years researching the benefits of yoga while completing my master's thesis research on the biomechanics of yoga. There are a slew peer reviewed academic articles stating the positive effects of meditation, stretching, and physical activity. It wasn't by researching yoga, but by practicing it that I experienced the greatest health benefit of Yoga.
According to me, the greatest benefit is that every day movements and tasks (physical, mental, and emotional) become easier. Somehow, when I started practicing yoga, reaching the top shelf of the pantry was easier, walking the dog became effortless, and snowboarding became a breeze. My body simply moved better, my thoughts more focused, and my emotions balanced.
Yetta: Which technique is more beneficial from Asana, Pranayama, Mantra and Meditation? Why?
Elizabeth: The practice of Yoga should be taken as a whole. I don't think that there is one technique that is more beneficial than the others. I believe that every body is different and yoga practices can be tailored as such (which is why I believe so strongly in working one-on-one with my students). However, there are some techniques that are beneficial to all.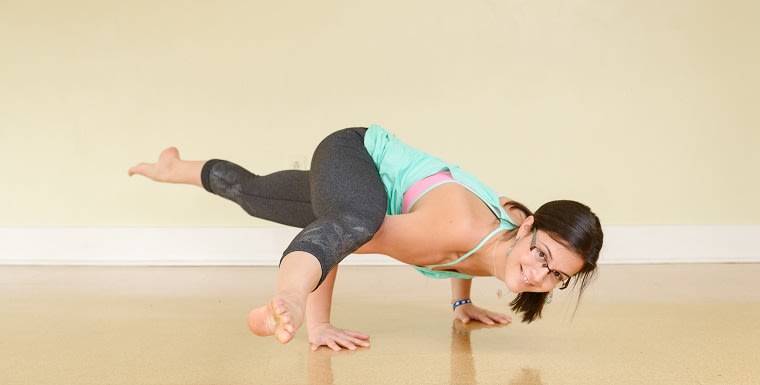 Asana:
Postures to strengthen the posterior chain (back of the body) such as table position with one leg extended behind and the opposite hand reaching forward, plank pose with one leg lifted, or Warrior III balancing position. All these postures offer a variety of intensity, easy to challenging, to strengthen the hamstrings in the back of the legs, gluteus on your buttocks, and erector spinae along your back. In a society that sits and slouches often, it is crucial that we maintain a strong back body to stand tall in order to reduce hip pain, back injuries, and headaches.
Pranayama:
Full yogic breathing. It is so simple and yet often looked over! In our daily lives, we thankfully breathe automatically. However, this breath is typically short and shallow, usually in the upper chest, which can cause anxiety and increased stress. Start lying down. Train yourself by directing your inhale to swell the abdomen, then the breath continues to rise up into the chest, all the way into the back between the shoulder blades. Exhale, reverse the direction of the breath (back, chest, abdomen) as you release. Focus on expanding your ribs forward, backwards, and out to the sides as if you had a balloon in your rib cage. You can even ask a friend to place their hands on your ribs to explore if you are in fact expanding you ribs in every direction equally on the right and left.
(Note: This breath is typically more useful in postures that do not require much core engagement, therefore practicing lying down is best.)
Mantra:
The simple mantra "So Hum", which means, "I am that", can be a powerful tool to identify oneself with the universe and others. Being able to identify one with others can help to calm frustrations and anger by placing oneself in another's shoes.
Meditation:
I have a fondness for the "Love and Kindness" meditation, also known as Metta meditation. It can change your mindset and your outlook towards yourself and those around you. It helps practice unconditional love.
It is practiced by sitting quietly and slowly mentally repeating the following phrase (or something similar):
"May I be happy.
May I be healthy.
May I be safe.
May I be free.
May I be peaceful and at ease."
When practicing this meditation, you can direct these thoughts to yourself. In time, you may extend the meditation to send these thoughts to a friend, a loved one, a stranger, and someone with whom you're experiencing conflict (perhaps someone you hate).
Yetta: Important Yoga props and accessories you recommend for Yoga learner or beginner.
Elizabeth: There certainly isn't on single "one-prop-fits-all" but a variety of props depending on the individual. I would recommend a meditation cushion, my top pick is the sitting cushion from LoveMyMat , for seated postures and seated meditation to save your ankles for aching, your feet from falling asleep, and your tush from sore spots.
The meditation cushion can help extend the length, comfort, and concentration of your meditation. For the asana practice, I encourage beginners not to shy away from the props. Ask your teacher how to use the blocks, strap, and bolster cushions. They can make your posture go from "ouch" to "mmm".
Yetta: What can someone expect to experience in a Hatha Yoga session?
Elizabeth: The best advice is to go without expectations, though that may not be realistic! Expect to be physically challenged because yoga is harder than it looks. Expect to be stretched and strengthened. Expect to be relaxed. Expect to pay more attention to your breath than you ever have in your life. Expect for your mind to be everywhere. Expect that you may find the solution to a problem. Expect that you may hate it, but if you do, go again a few more times with other teachers to make sure it wasn't just a personality clash.
Yetta: What advice would you give a well-practiced yogi to take their practice to the next level?
Elizabeth: Come back to your mat and simply practice. But when you find yourself unmotivated or stagnant, I recommend you read books by great teachers, try a yoga class at a new studio or a different style altogether, give back to the community (karma yoga). It is by going beyond our comfort zones that we grow, so find what makes you nervous and find a way to explore that safely.
Yetta: What advice would you give yoga beginners to motivate themselves?
Elizabeth: Schedule time for your self-care. Make time for it! Once your pencil in a yoga class to your schedule, firm your commitment by breaking down barriers before they arise. For example, if you tell yourself you want to attend an early morning class, make your lunch the night before, set your clothing out by your bed, and set an annoying amount of alarms. Find a friend who is more motivated than you and ask for their help. There's nothing wrong with asking for help!
Yetta: Please share some information about your brand, books or about your website.
Elizabeth: My website, www.yogarific.ca, is a fabulous place to find wholesome recipes on my blog, to discover the location of my next Yoga Retreat, and coming soon, an educational resource where yoga teachers and practitioners will be able to learn about the current state of Yoga research. I will be launching a blog series describing the positive effects of yoga practice as found in academic research in words that the non-scientist can understand and apply!
Yetta: Say few words for our readers.
Elizabeth: You don't have to bend over backwards to enjoy the benefits of yoga.
Are you yoga teacher, therapist, yoga instructor or health & Fitness experts and want to contribute your yoga knowledge with our readers? Write us at yetta@yogacurious.com to participate in this "Interview with expert" series.
Namaste!!