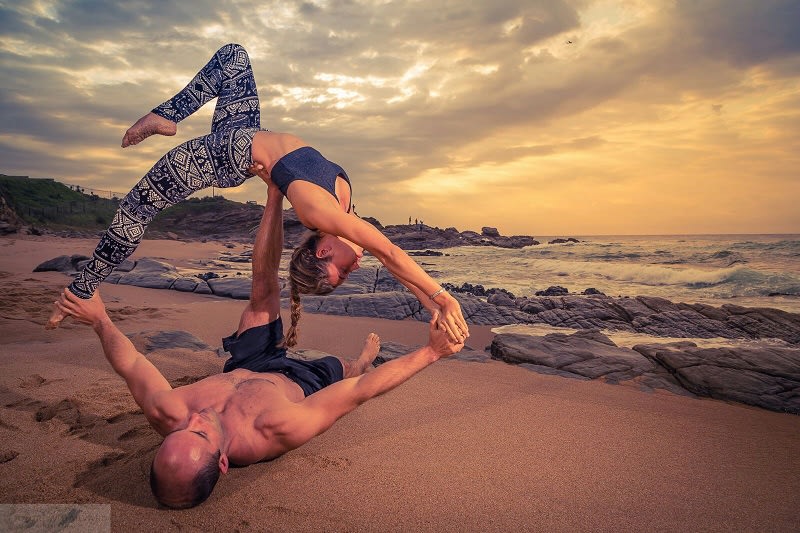 YogaCurious : Hi, Ryan. What inspired you've to start your clothing brand?
Ryan : I met my business partners Mitch and Fai on my first trip to Thailand in 2014. They already had the idea in place but once I met them it all clicked as I knew the website and technical side which was the one element they were missing. We saw how a lot of travellers really loved the Thai harem pants that we sell but not everyone is able to travel to Thailand so we wanted to share this style and part of the culture. Once things got moving we realized we had a bigger mission with OneTribe Apparel which is to share different and unique clothing styles from other countries as well. In the future we will feature threads from Nepal, Indonesia and more.
YogaCurious : Do you think the Harem Pants and clothing overall is very helpful in yoga practice? How?
Ryan : I think harem pants offer a nice alternative to the tight yoga leggings or shorts most people wear. They are lighter; they flow and give a bit more breathing room. Many of our customers say they are the most comfortable pair of pants they own and so I think when you are comfortable it's easier to perform yoga as well as other sports or activities.
YogaCurious : Ryan, How yoga has contributed in your life? Share your experience with yoga.
Ryan : To be honest I am not a yoga practitioner myself although I've vowed to give it a shot when I go back to Thailand next year. When I was in Thailand I took muay thai kick boxing classes and really connected with that sport. Fai who is on the One Tribe team loves yoga so I asked her to share her perspective
"Yoga has been such a blessing in my life. The flexibility, energy and focus, I feel after yoga has been such a positive for me, it's hard to describe. Not only that but I've met so many great friends in the yoga community and traveler who come through PAI that its enriched my life in many ways."
YogaCurious : Share more information about your Giving Back campaign.
Ryan : The Banyan Center is a school located in our home base in PAI, Thailand and run by the Kwah Dao charity. The mission of the school is to provide free education scholarships to stateless Burmese refugee children who are unfairly thrust into a very difficult environment and on top of the regular schooling also help them learn Thai and English.
We visited the school and knew we had to get involved because their mission is so important. Their families aren't recognized by the government and people of Burmese heritage have been displaced and often have to work in unfair and unregulated environments. It's our hope to work with Kwah Dao to help these children have a better future. You can find more on our page about giving back here.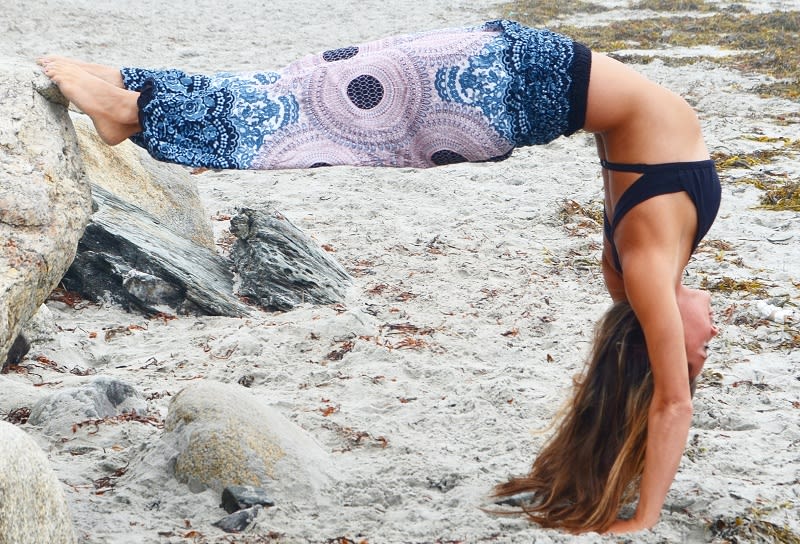 YogaCurious : Share more information about your brand and products.
Ryan : The signature products at One Tribe Apparel are our hand crafted harem pants. We have over 40 different patterns in many unique and colorful styles. We also have a line of unique leggings and now Aladdin pants. All of our clothes can be worn to yoga, concerts and are even a favorite for long travel because they are so comfortable.
Our most popular collection are our peacock harem pants which have a beautiful feathered pattern and come in a great selection of colors.
YogaCurious : What is next for One Tribe Apparel?
Ryan : The next phase of One Tribe Apparel is going to be to greatly expand our offering from just the pants to include tops, shorts and dresses but all with the diverse boho style people expect from One Tribe Apparel. Next spring we'll be launching our first line that is completely exclusive to us and we couldn't be more excited.
We're also looking to do more and bigger partnerships within the yoga and bohemian fashion community. The yoga community in particular has been amazing and supportive of this project and we hope to continue to provide them with great clothing that allows them to fully express themselves.
If you want to share your yoga experience with our yoga lovers, contact us here, We love to arrange your yoga interview and share it on our professional yoga blog.