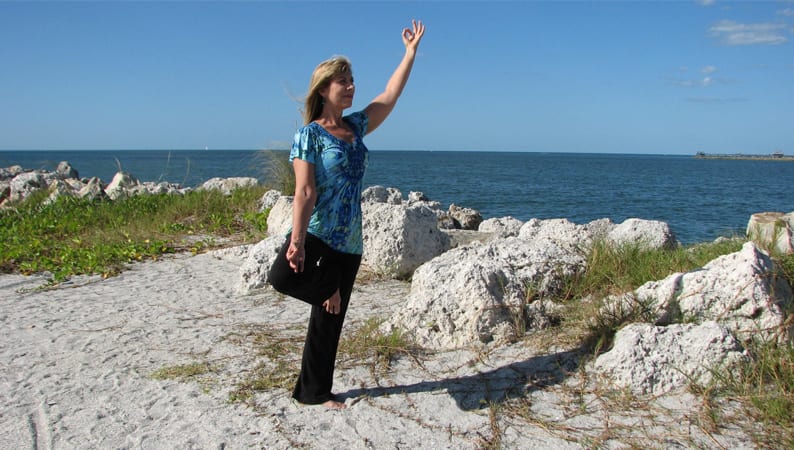 After a serious back injury, Cindy Bartz was able to use Yoga, Tai Chi and Qigong to regain her health. She currently studies with Master Yogi Amrit Desai at the Amrit Yoga Institute and is a 200-RYT (Registered Yoga Teacher/Yoga Alliance). She earned her Level III Tai Chi/Qigong Instructor certification from the Supreme Science Qigong Foundation and completed the 10-day Vipassana meditation course several years ago. Cindy has an education degree and has over 30 years experience in teaching and helping others from around the world.
Checkout her profile on Linkedin: Cindy Bart
Lets start interview with inspirations words by Cindy Bartz:
Yetta: Namaste, Cindy Bartz, Please say few words about your yoga journey.
Cindy Bartz: For many years I was a health and wellness advocate, I was a body builder, cyclist and personal trainer. After a tragic cycling accident I ruptured several discs in my cack and could not move without being in excruciating pain. It was through this accident that I discovered restorative yoga, regained my health and got my life back!
Yetta: What is your favourite yoga practice and how does it benefit your life?
Cindy Bartz: I started training through the Amrit Yoga Institute in 2006 and from the first darshan with Yogi Amrit Desai his teachings resonated with me. I learned that yoga is so much more than the physical practice. The ancient yogic principles and techniques have taught me to be at peace with myself, to love myself unconditionally, to trust and surrender to a Higher Power. I no longer suffer from anxiety or stressed out about the future. It has changed my relationships both personally and professionally in that I am more accepting of people, and situations.
Yetta: What in your opinion are the greatest health benefits of doing yoga?
Cindy Bartz: Up to 85% of all illness and disease is caused by stress. For me the greatest benefit of yoga is the reduction of stress and anxiety.
Yetta: What's your mission as a lead yoga teacher? Who are you trying to reach and why?
Cindy Bartz: There is a misunderstanding that yoga is for super flexible people and for young people that are already in great physical shape. I love working with people over the age of 40 who are committed to a healthy lifestyle. High blood pressure, high cholesterol, diabetes, cancer and other illnesses can be prevented. Start where you are right now no matter what your physical limitations are. After my accident I couldn't move at all without being in pain, I had to move very slowly. I learned a great deal about patience and understanding of myself. No matter what your age or current health situation you can do yoga.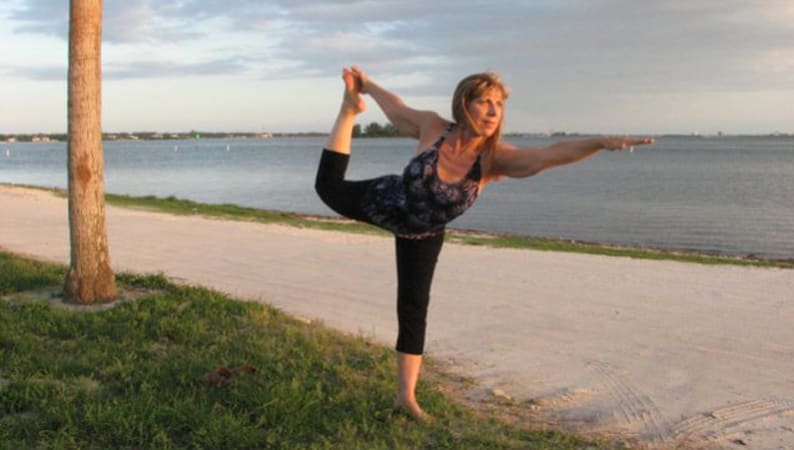 Yetta: Important Yoga props and accessories you recommend for Yoga learner or beginner.
Cindy Bartz: One of my favorite props is a wall – it works well for balance and also to learn proper alignment, such as Warrior I, II and Triangle yoga pose. The wall also works well when learning more complicated poses like headstands. Whether you have been practicing for a few months or many years I still use the wall. Other props I strongly recommend is a yoga strap and a couple of yoga blocks.
Yetta: What tips can you offer for avoiding injuries in yoga and getting the most health benefits out of it?
Cindy Bartz: Find a certified yoga teacher that you resonate with. When learning the postures alignment is extremely important. Many people want to push and move too deeply into a pose and compromise alignment. This will only set the person up for potential injury. A qualified and knowledgeable teacher can help you learn not only proper alignment, but can also motivate and inspire you. They will be able to teach you other aspects of yoga, such as breath techniques, meditation, pranayama and how to incorporate yoga principles into your daily life off the mat.
Yetta: Any advice for health professionals, body-workers interested in learning more about the intersection of yoga and health & wellness?
Cindy Bartz: You can't be all things to all people – find your niche. The world is your oyster and there are so many people that are looking for someone to help them. As a health professional each and every one of us has a special gift and has a unique talent and teaching style. There is no competition, instead collaborate and work together. There is power in numbers.
Yetta: What advice do you have to motivate that people who have never tried yoga?
Cindy Bartz: You are enough! Start from where you are and find one thing you can be grateful for today. If you can't move, you have your mind, start there with a mantra or a meditation. Yoga is not about touching your toes or being able to stand on your head. According to the yoga sutras, yoga is witnessing the modifications of the mind. A short practice of gratefulness will begin to transform your life.
Yetta: Please share some information about your brand, books or about your website.
Cindy Bartz: Yoga is for everybody, every shape, every size and you can start at any age. I specialize in helping people who want to incorporate health and well-being into their daily life. If you have physical ailments such as high blood pressure, high cholesterol, diabetes, cancer or other illnesses don't let this stop you.
Yetta: Say few words for our readers.
Cindy Bartz: I would love the opportunity to work with you. No matter what your level or current understanding of yoga, working together you will gain maximum results for your health and well-being. These results include greater flexibility, range of motion, better balance, reduction of stress and anxiety, improved immune system and increased strength.