The first week of March has been celebrated as an International Yoga Festival from the last 16th years. This 17th yoga festival event is organized by the Tourism Department of Uttarakhand State and Parmarth Niketan Ashram of Rishikesh, India.

About Annual International Yoga Festival:
The Internation yoga festival takes place at Parmarth Niketan in Rishikesh, from March 1 – 7 every year with over 60 hours of Yoga classes. You can learn and start the session of yoga from the yoga experts from India.  You will have a great opportunity to learn and practicing various types of yoga like as Kriya Yoga, Iyengar Yoga, Vinyasa Yoga & Kundalini Yoga from experts yoga teachers & artists. They also explore the 8 limbs of yoga and how to apply on our lives whether you are yoga students or not.
The Participants of the yoga festival will fortunate with the presence, Yogacharyas, spiritual seekers, satsang and divine words of revered saints from India. The rising yogis & spiritual seekers are H.H. Pujya Shankaracharya Swami Divyanand Teerthji, H.H. Pujya Swami Chidanand Saraswatiji, H.H. Pujya Swami Ramdevji and other more.
This yoga festival offers a lot of kirtans, cultural music & dance events, campfires and concerts in its program. The special light ceremony & Ganga Aarti will be the highlighted from 6.00 pm to 7.00 pm on the banks of the sacred river Ganga.
Who can attend the yoga festival?
Yoga is a Sanskrit word derived from the Sanskrit root "yuj" which means to connect, join or balance. So IYF event is open for all, who have an interest to do or learn yoga, whatever level you consider yourself to be.
Benefits of Attending the International Yoga Festival:
Your week at IYF will assist you to deepen your yogic practice on the physical, mental and spiritual levels. You can try new yoga styles and also find a new yoga teacher, yoga guru or yoga enthusiast from this event.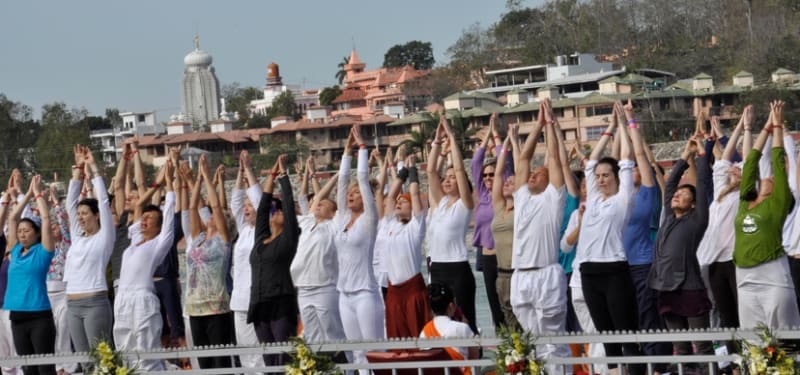 Details of Daily IYF Programs
Daily classes start from 4 am.
Everyday at 6.30 am we hold a one-hour yoga class, followed by a simple breakfast.
At 8.30 am you can join one of several two-hour hour yoga sessions.
At 11:00 am, before lunch, we have divine and inspiring lectures from revered saints and yogacharyas on a variety of uplifting and inspiring subjects.
A traditional Indian lunch is served from 12.30 pm to 1.30 pm.
The afternoon starts shortly after lunch with instructional classes, followed by three Yogasana classes from 3.30 pm to 5.00 pm.
From 6.00 pm to 7.00 pm we attend the special light ceremony, Aarti, on the banks of the river Ganga.
Dinner is served at 7.00 pm followed by special evening programs of satsang with our spiritual leaders, cultural song and dance events, campfires and more, finishing by 9.30 pm.
The IYF has already revealed the detailed Programme schedule for this yoga festival and also publicize the Brochure of the Festival.
We have a special program this year through which the first participant to register from each country will become that country's official ambassador. This great honor will include special privileges, opportunities and a unique gift.
This 17th International Yoga Festival offers a big opportunity to join with the yoga fellow around the world. Learn, know and share yourself at this giving strong encouragement week. It does not matter that you are a yoga people or not. You can join this IYF 2016 event only from their official website or you can correspondence with them on info@internationalyogafestival.com