Yoga is an ancient technique of rejuvenating our body, mind, heart and soul internally. The word Yoga implies union of breath with body, union of mind with muscles, and union of self with the divine power of universe. It is a science of healing all the bodily ailments, creating the unique peace of mind and soul. The International Yoga Festival is all about relaxing and rejuvenating ourselves through Yoga and Meditation.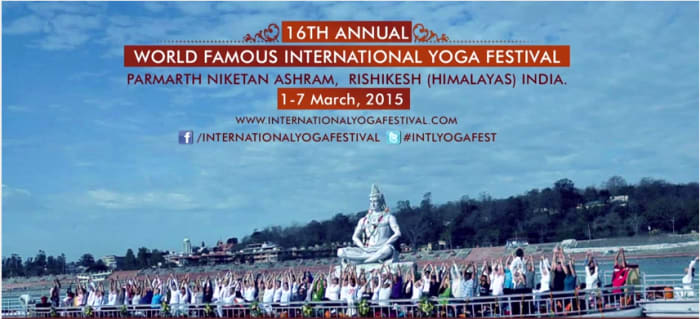 Who, Where and When is it Organized?
Rishikesh, the yoga capital of the world is again ready for the 16th Annual International Yoga Festival. This festival is jointly organized by the Uttarakhand State Tourism Department and Parmarth Niketan Ashram of Rishikesh. Thousands of Yoga enthusiasts are going to be a part of this mesmerizing one-week event. This event will be held on various locations in Rishikesh from March 1 to 7. So, if you are a yoga follower or want to learn something new from various spiritual masters, then be a part of this exciting Yoga festival.
About 16th Annual Yoga Festival
International Yoga Festival, co-hosted by Rishikesh Yog Peeth, presents various well-renowned saints, spiritual masters and yogacharyas. The divine river Ganga will create an appropriate milieu for the blessing lectures and special yoga classes. These lectures and classes are especially designed for the yoga enthusiast, where they will get the spiritual lessons from world-class yog gurus. This one-week inspirational event is really a relaxing and calming event that will give you an inner strength to face the challenges of life successfully.
This exciting event offers you an opportunity to join in over 70 hours of yoga classes. In these classes practitioners will get precise knowledge of multiple styles of Yoga, including Power Vinyasa Yoga, Kundalini Yoga, Kriya Yoga and many more, given by the outstanding Yoga teachers. Various attractive and beneficial programmes are also arranged by the in-house yoga teachers.

If you have any query regarding any of the yoga techniques then you can find out the accurate answers in the interactive sessions that will be given by the knowledgeable yoga experts. These world-class yoga gurus enlighten the path of development as well as awakening.
After this yoga class, a cheering satsang is organized, which is given by the various spiritual masters such as Swami Divyanand Teerthji, H.H. Swami Veda Bharatiji, H.H. Sri Shankaracharya and H.H. Swami Chidanand Saraswatiji. In the cultural evenings or Sanskritik Sanadhya you will witness the amazing performances of various folk artists and vocalists that portray the culture of the place. You can also experience the local life of the place by the cultural evening walk in the bazaars and temples of Triveni Ghat. The most highlighting part of this event is the evening Ganga Aarti, which is conducted on the private ghat of hotel Ganga Kinare.  There is something really different in this aarti that one must experience during this magical event.
In addition to the yoga session and divine satsang, International Yoga Festival also offers various exhilarating activities, like Rock Climbing, Adventure Bike Rides, Bungee Jumping, Rafting, Wildlife Safaris and much more.  All the additional activities can be availed only by paying some fees. The bookings for these activities can be done on the Ganga Resort GMVN.
Daily IYF Programs:
Each day's schedule varies day to day, the general IYF daily schedule includes:
Classes would be started from 4 am daily.
One hour yoga class will be organised at 6.30 am daily after that you can take a simple breakfast.
You can further join any 2 hours yoga sessions at 8.30 am.
Before lunch, at 11.00 am, you can avail divine lectures from renowned yogacharyas, based on various inspirational subjects.
A satvik traditional India food will be served on lunch at 12.30 pm.
Instructional classes followed by three Yogasana classes will be started from 3.30 pm to 5.00 pm.
A special light ceremony, Aarti will be started from 6.00 pm to 7.00 pm on the banks of the holy river Ganga.
Simple dinner will be served at 7.00 pm.
Special evening programs include Satsang with spiritual leaders, Cultural dance and song events, and many more can be enjoyed after dinner and all day activities will be finished by 9.30 pm.
Here, IYF has already published the detailed Programme schedule and the Brochure of Yoga Festival.
How to apply? (Terms and Conditions)
If you want to participate in this event, then you need to follow some Terms and conditions of this event. This event is an international event so the crowd will be high. There are limited seats and the allotment of seats of each yoga session will be served on first come first serve basis. So, the participants are advised to be registered himself at least one day before the scheduled date and time of every class. The seating arrangement for the yoga class and cultural evening is made according to the packages offered to the participants. Once the package is booked, it cannot be transferred in any condition. Similarly, the registration fees or packages fees will not be refunded in any circumstances. So, fill the registration form cautiously.
All the meals will be available at the venue of the event, so you don't need to be worried for meals. Meals will be satvik vegetarian, and include two times tea/coffee/lemon water during your yoga practice. Don't forget to bring your ID card and the online booking receipt. The process of registration is totally governed by the Laws of India so revocation will be punished severely.
International Yoga Festival 2015 offers an opportunity to connect with the fellow seekers around the world. Learn, share and bond yourself at this inspirational and encouraging week. No matter whether you are a Yoga student or not, you can join this event and be a part of this path of discovery and awakening.