Dashama is an author, international yoga teacher, traveler, multimedia producer and CEO of Pranashama Yoga Institute and Perfect 10 Lifestyle. She invented paddle board 'SUP' Yoga, which got great exposure and favorite in yoga community.
Dashama is an unique and respected personality in the field of yoga, health and fitness industry. She is well recognized international yoga teacher has arranged thousands of international yoga teachers training programs. She was one of the first yoga teachers on YouTube where her videos have over 8 million views online. Dashama has spent over a decade in traveling the world teaching people how to find joy, peace and fulfillment through yoga, meditation and healthy lifestyle practices.
Here we are publishing our exclusive interview with Dashama where she has discussed different aspect and her wonderful journey with yoga. Here we Go…
Yetta: Namaste Dashama, Can you please tell our readers about your journey as a Yoga Teacher?
Dashama: Yes, I was introduced to some yogic lifestyle and practices early in life, by my mother. We would practice handstands, headstands and full wheel, shoulder stand and some meditation practices as well. We lived in a rural area in Northern Florida, so connecting with nature was always a part of my life. It brought me peace. When I was 7, my mother developed Schizophrenia, so that lead us to be placed in foster homes for 5 years. That was a tough time for me, growing up with strangers. I was given fried foods like chicken nuggets for the first time and developed an ulcer at the age of 8. This was the beginning of many health issues. Later I went to live with my aunt in South Dakota, and I was involved in many sports. I always practiced yoga in my room and out in nature to balance my energy and find some peace. I also practiced martial arts in my room, especially in the winter when I couldn't go outside much.
I developed a hyperthyroid disease at age 14 and it was a serious health issue for almost 4 years. That led me to seek how to heal myself with nutrition and with exercise. I experienced many traumas growing up, some I was ashamed about to speak to anyone. I lost my virginity to rape a few weeks before my 18th birthday. That led me to even more unhealthy behaviour, drinking and doing a lot of drugs. I was getting sick alot, because my immune was weak from the drinking and thyroid disease, so I took anti-biotic a lot, which destroyed a lot of my internal digestive health. This led an issue with acne and other health problems.
I was always searching for something to bring me peace, I found it in nature, I found it with exercise and with yoga and with connecting with people I love, hugging, sharing love, keeping my mind positive. I studied the great master like Helen Keller, Mother Theresa, and even Anthony Robbins. When I discovered Deepak Chopra's teachings in college, it helped me to gain more clarity about the spiritual realm and brought me some peace. It lead me to go to the Yoga Teacher Training at Sivananda center. It lead me to the path I am on today in many ways.
At first, I didn't go into YTT (Yoga Teacher Training) to become a yoga teacher. I was a fitness trainer, so I was just looking to find some inner peace with yoga, and I soon discovered it was able to provide that and much much more. Great and deep healing was beginning to occur from the inside out and I released many years of grief, pain, sadness and saw that my health was beginning to get better as well. From there, things happened synchronistically. I attracted some of the top doctors in South Florida as clients, and even consulted for the Coral Springs Medical Center to develop an 8 week yoga and fitness challenge for their employees when I was 25.
Yetta: What is your source of motivation for doing this extremely good work?
Dashama: I am motivated by the students who email and write me telling me how much my work has transformed their lives. That is the greatest reward. And the other motivation is to see how much I can create in one lifetime. I am a creator by nature. Ideas come to me constantly. If I can act on them, and manifest them to reality, I love to see a baby idea grow to a full reality with the team work and love that they deserve. And to see how these ideas can impact the world in many positive ways.
Yetta: What do you love the most about teaching yoga?
Dashama: I love how it feels to help people take the power into their own hands. We can heal ourselves; we don't really need anything else, but the right knowledge and resources. I love how it feels to make a difference in people's lives. And I love how yoga feels when I am doing it, when I am teaching it and when I am creating new ways to offer it to the world.
Yetta: Please share some information about yourself and your yoga teacher studio.
Dashama: I travel the world teaching and certifying teachers of yoga. I am based in Miami beach, and spend my summers in Bali where I have a few resort partners that I work with bringing groups for a month at a time. People can also join us for a shorter retreat if they can't come for the full month. I also dedicate a great amount of my time to creating online videos and media, to reach an even wider growing audience.
I created the 30 Day Yoga Challenge online on Youtube back in 2008/09 and it went viral. That allowed me to reach millions of people with the healing techniques I had learned along my own journey. I'd save up my money and travel to learn from the masters whenever possible. I went to India and Israel, I went to Costa Rica, California, Hawaii, Mexico. Then I began leading retreats and people would come to meet with me from around the world. That is how it all started and here we are today. I'd still doing this.
I developed the Pranashama Yoga Institute (pranashama.com) to share the healing and transformational techniques I have learned. I released my first book, Journey to Joyful back in 2009, as a self published book, then it was picked up by North Atlantic Books and distributed by Random House international in 2010/11. I have produced 11 DVDs and we're about to release he next 12 DVD set we filmed in Bali last summer. It is a comprehensive yoga teacher training online system that people can earn up to 40 hours of CEUs and also have access to the online membership area for life.
Here is the link : https://s://www.udemy.com/40-hour-transformational-yoga-teacher-training-video-course
I have also been developing some tv shows about the work I do, you can see on my website here; https://dashama.tv/tv/
Yetta: What in your opinion are the greatest health benefits of doing yoga?
Dashama: Stress is the #1 cause of all disease and sickness. To learn to manage and reduce stress, with breath, meditation, and yoga practices is the single most important benefit. That will prevent disease and help deal with or cure sickness. That along with proper mindset and nutrition, these are the keys to a happy health life. And to do it with a deep connection with spirit, with the soul, this is the ultimate reality. Where we are all ONE connected with the Source and we can see the interconnectedness between all beings. That allows us to move away from the lower level of living, with jealousy, competitiveness, anger, greed and lust – and to move toward a higher level of living that is filled with collaboration, support, empowerment, and seeing that there is more than enough in the world. We are all in this together.
Yetta: How you managed your Yoga schedule during traveling?
Dashama: I try to practice yoga whenever I can. I don't always do a full 60-90 minute practice each day; instead I do several shorter segments. Like 15-30 minutes whenever I can, several times per day. This is great and it balances my energy to stay consistently open and in the flow. When I am away, if I have a regular class schedule, then I just get a sub for while I am away.
Yetta: What advice to would like to give a traveler yogi?
Dashama: Traveling requires a great deal of preparation and foresight. For me the biggest issue I get is fatigue, dehydration and stress. Being on planes is stressful; it also impacts your energy level. You lose up to 9 cups of water from your body just from a long flight in a plane. Most people don't know this. If you drink a bunch more water, you will be fine. Be sure to use lemon in the water, it will help to alkalinize. Also, power up the immune and bring some healthy options on the trip like oregano oil and grapefruit seed extract which all help to keep you clear of bad bacteria and will flush anything you may get. Be sure to breath deeply, and keep your mind clear and positive. Don't let the little things bother you. Check in online in advance if you can to save headache and hassles at airports. And pack LIGHT. You always need less then you bring.
Yetta: Our readers would like to know about your creation "Paddle Board Yoga".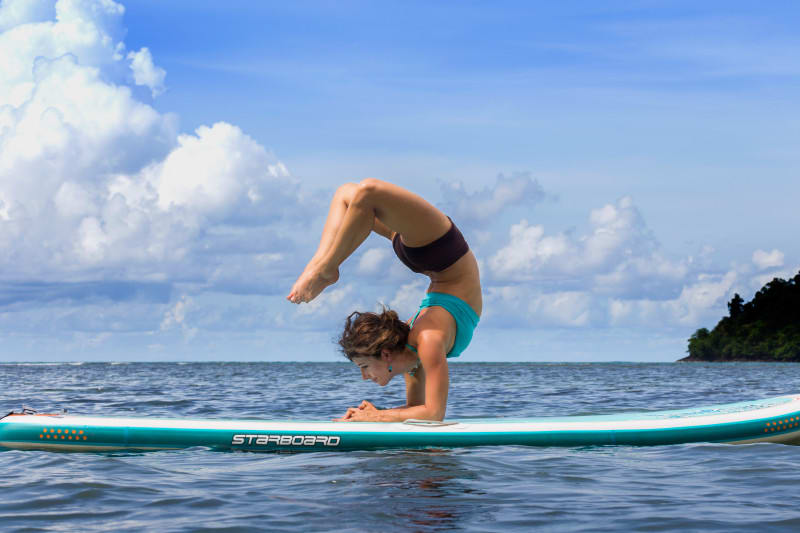 Dashama: I love Paddle Board Yoga. I spoke about it a bit above in the 1st question. It combines my 2 favorite things: Yoga + Nature. I have always loved the ocean and being outside. I don't like being within walls when I practice yoga as much as I prefer the open air and sky.
Yetta: How you got the idea of Paddle Board Yoga?
Dashama: I developed this in 2009 when my friend Jesse took me out paddle boarding. It seemed perfectly natural to begin doing yoga on the board, and I loved to be able to see the fish and manatees under me as I practiced.
We filmed this first yoga boarding experience and that video reached over 140,000 people online. Many people started practicing it after that. I have taught at places like Waldorf Astoria in Boca Raton, as well as all over the world in Malibu, Bali, Hawaii and Miami Beach at other resorts and on the ocean, as well as in the swimming pools. Now I am offering 4 day Paddle Board Yoga Teacher Trainings. We have the first one in Maui March 4-7, then the next one will be in Miami Beach in May. We are also filming yoga boarding DVDs and videos in Maui as well as back in Miami Beach. These will be hosted on my channel at Yoga.com as well as at Fitfusion.com and other sites.
You will also find some more at my youtube.com/dashama channel and on my blog at dashama.tv/blog. You can learn more about it at sup-yoga.com and we will be expanding the site soon to develop yogaboarding.com which will be s central hub for this new and exciting yoga fusion style.
Yetta: According to you what will be the future of modern Yoga?
Dashama: I feel modern yoga has already taken the direction it will go, which is to offer many different styles, and fusion styles that appeal to all of the different types of people in the world. People into water and health/fitness, will be naturally drawn to paddle board yoga. People who need healing and who are dealing traumas or who wish to access their highest potential in every way, may be drawn to my system I developed called the Prasha Method. There are some more militant styles like Ashtanga for those who desire a rigid structure and the hot yoga like Bikram for those who just want to sweat a lot and do the same poses all the time. And there are gentle styles for elderly or those who have been injured, and for those who are very stiff… There is literally something for everyone and that's what I love about yoga.
Yetta: Say few words for our readers.
Dashama: I leave you with one thought. If there was a way for you to access a sense of inner peace, purpose and clarity about your life, a deeper connection to your spirit and to maintain and improve your health for the rest of your life – wouldn't you want to do that every day? That is a small hint of what yoga can offer you. I encourage everyone to begin where you are and take it one step at a time. The journey is the destination. Be grateful for everything, even the challenges, they help you to grow.
Enjoy it!
Love and Namaste, Dashama