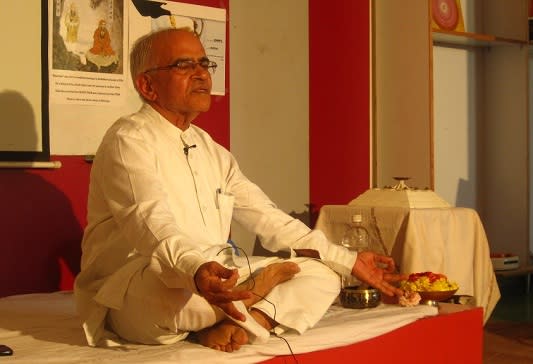 You must have heard about Holistic Healing but I am sure only few have experienced the healing power of this holistic approach. Today, I am pleased to publish my recent interview with Shri Raj Kumar Dham, Director of ATMABODH center for learning and CEO at Varpar. He is having over 3 decades of experience working in this field. He is life coach and motivational speaking who dedicated his life to improve the way people living by spreading his knowledge in Yoga and different approaches of holistic healing. Here we start with our interview with Shri Raj Kumar Dham.
Jignesh: Can you please share how you start your journey with yoga and healing  ?
Raj Kumar Dham: In 1986 due to unfortunate developments in the organization / business, I was under too much stress and my physical, mental and emotional health was affected badly. My friend Dr. Jiten Bhatt, an engineer and holistic healer treated me and within a few days I was feeling much better. I was so much impressed and happy with this that I learned and started practicing with a view to help the people. Healing became my hobby. I was moved by the healing power of Yoga especially simple breathing / Pranayama and meditation.
Jignesh: Since when, you have been practicing yoga and what was your source of motivation?
Raj Kumar Dham: I learnt yoga mainly asanas during my school days  ( 1960-1964). In 1967 I was initiated in TM by Mahesh Yogi himself when I was doing my engineering at MACT Bhopal I was moved by the healing and transforming power of yoga.
Jignesh: When did you decide to dedicate yourself to holistic healing and self development as a personally and professionally?
Raj Kumar Dham: In 1989 I started helping people healing through Reflexology, Acupressure etc. In 2000 I was awarded MD in Alternative Medicine. In 2001 I started conducting courses, workshops for Self Development. By coupling Yoga and Science we have developed a new technique for bringing about desired changes in our behavior, attitudes, habits etc. This technique we have named BMP ( Body  Mind Programming ). Our book "Create your future through  BMP" is under publication and will be released within a few months.
Jignesh: What exactly the holistic healing is? Please explain in detail.
Raj Kumar Dham: Let's first understand the word 'Holistic'. Holistic means as a whole. In holistic approach we take all aspects – physical, mental, emotional, social and spiritual. Disease is a result of physical, mental, emotional, spiritual, social and / or environmental imbalance. In the holistic healing for treating the diseases every aspect is taken care of. Acupressure, Acupuncture, Reiki, Pranic Healing, Yoga etc are Holistic Healing Methods. Body's inbuilt Healing Mechanism is utilized to treat the diseases as such these methods have generally no side effects.
Jignesh: As a yoga therapist, please share your experience about yoga as a healing therapy.
Raj Kumar Dham: I would like to share with you here a case. My friend aged 68 had undergone angioplasty,   bypass heart surgery, spinal surgery was suffering from High BP, Asthma, continuous running nose, varicose veins and had developed a pain in the heel also. He used to carry with him number of inhalers and a pouch of medicine. I advised him to watch on TV Swami Ramdevji's yoga camps programs where in people also share what benefits they got by doing yoga. He watched and got convinced that he should give a trial to practicing yoga as it can help him. He started coming to my yoga classes regularly. Within a few weeks he started experiencing some benefits. He started practicing at home also. Within six months his health improved so much that he sought my help to start Free Yoga Pranayama classes at his place. He slowly stopped using inhalers, heel pain vanished and use of medicines were minimized. Today he is the yoga lover, underwent teachers training also, donated lot of money for the propagation of Yoga. His whole life got transferred became vegetarian, tea-totaller and yoga enthusiastic. Today at 74 he is looking much younger and healthy. He is the inspiration for others how yoga can help them.
Jignesh: As you also train Yoga Teacher, define some qualities of ideal yoga teacher according to you.
Raj Kumar Dham: I often tell Yoga Teachers to develop Love. Love yourself as you are a  divine soul, Love your student and love  everyone ,  Love Yoga. When you love the best comes out. Teachers should be a source of inspiration for the students. Your own life should be the message. Love, dedication, service motto will help them. Your own life should be an open   example , practice what you preach. Teachers should try to understand the students  , their needs and requirements and try to design the class accordingly. I will say Love, dedication, service motto are essential qualities for the teachers.
Jignesh: Share your most memorable incident as a life coach and yoga therapist.
Raj Kumar Dham: One Engineering college student told me that when he attended my motivational talk last month at that time he was totally dejected as his father had passed away and he was worried about how he can continue the studies as there is no money available for fees and hostel expenses. After listening to my talk he got inspiration that even in adversity some help can come. He started coaching the students to support his studies. He completed his engineering studies and got a good job also.
A 13 year boy was having wheezing problem for many years. He started doing yoga regularly and got rid of it completely.
Jignesh: What advice you will give to people who want to start practicing (learning) yoga?
Raj Kumar Dham: Yoga will help you in all the walks of your life. It is simple, easy to learn and you will start experiencing the difference within a few weeks. Yoga will help you in improving your performance in your work / job.
Jignesh: In today's era, all are busy with work and all. Which asanas you suggest our readers that can be performed in small time-stamp and can help to tone whole body?
Raj Kumar Dham: You should spend at least 20 to 30 minutes daily for your own self doing yoga. It will not be a waste but a good investment your efficiency in work will also increase. You will feel relaxed and more  fresh. This will help you in taking proper decisions and finding creative solutions to your problem. Start with warming up.  Select asanas which you can do easily and perfectly. While doing yoga focus your body mind and awareness together on whatever you are doing. Do simple breathing exercises (Pranayama without holding the breath)
Jignesh: Say few words for our readers…….
Raj Kumar Dham: To readers
Yoga is meant to bring smile in your life. So learn to Smile. Try to maintain a smile on your face always. After sometime smiling will become your natural habit. This will bring a significant difference in your life. Give a try. It will improve your health, relationship and also your performance. Just SMILE.