Yoga pants by Teeki are one of the most popular products at YogaCurious. Our team collected data from our marketing team and filtered out top 3 most popular yoga pants by teeki for review. I am sure our review will help you to choose best teeki pants for you.
Teeki Clouds Yoga Pants
Teeki clouds yoga pant has secured the first position in all other yoga pants available at YogaCurious. Why?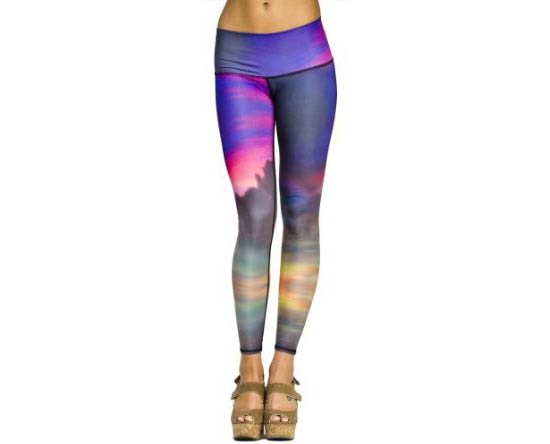 Colors
One of the most important factors that make this yoga pants at first place is, its vivid colors. Very attractive cloudy design makes this product unique amongst other yoga pants. It gives stylish look to wear during workout and other occasions too.
Material
All teeki yoga pants and leggings are made from recycled plastic bottles; that means all teeki pants are eco friendly. Clouds yoga pants are made from 4-stretch fabrics which is very soft and flexible. Very light weight and stretchable which gives big comfort while you practicing complex yoga poses.
Price
Clouds yoga pant is available from $66 to $69 depending upon size of the pant. Price is bit high as compare to other brands yoga pants. If you want yoga pant that gives unique and stylist look with comfortable outfit, this can be your first choice!
Where to buy?
Visit YogaCurious Teeki clouds yoga pants product page to place your order now!
Teeki Northern Light Eco-friendly Yoga Pant
Northern light yoga pant secured second position at YogaCurious with its unique print design. As this product is stretchable, we strongly recommend try this product at your local store and confirm the size. We found that few of the customers who bought this product faced some issue with sizing.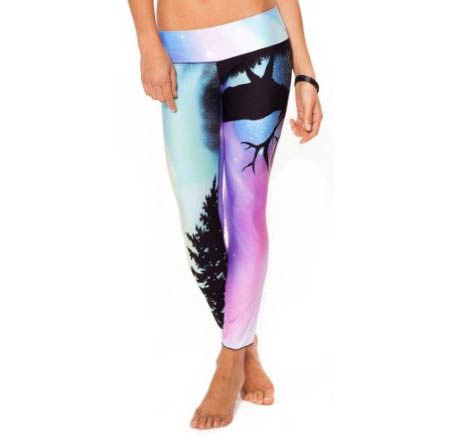 Color and Size
Very unique design and attractive color print that gives stylish look. Available in X-small, Small, Medium and Large size.
Material
Northern light yoga pants are made from 4 way stretch materials (79% P.E.T. / 21% spandex). This is 100% eco-friendly product as it is made from recycled plastic water bottles.
Price
You can buy this yoga pant from $66 to $69 (depending upon size you select).
Where to buy
Visit our Northern light teeki yoga pant product page to place your order now!
Teeki Moon Dance Hot Yoga Pant
Teeki moon dance hot yoga pant is our recent addition in Teeki products. This yoga pant design is very unique and getting popular in no time. With unique print containing moon with dark color shades makes this teeki pant more adorable.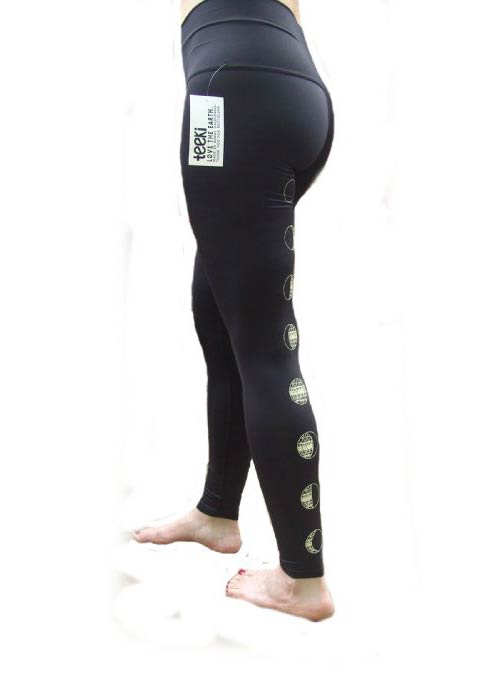 Colors
Moon dance yoga pant is available in only one color with unique moon designs. Available in low waistband, it will give stylish and sexy look. You can casually wear this pant or can also use this pant during yoga workout.
Material
When you buy this yoga pant, you are doing your part to support nature as this pant is made from recycled water bottle and 21% spandex. Very comfortable 4 way stretch fabrics will give great comfort during workout.
Price
Moon dance yoga pant by teeki is available at just $65.95
Where to Buy
You can buy this Moon dance yoga pant from our official website.
Note: All Teeki Yoga Pants discussed here are stretchable and available in different sizes. If you are between-size person, we recommend purchasing one size up yoga pant.
Are you using any of these Teeki Yoga Pants? Share your experience and feedback with our readers.