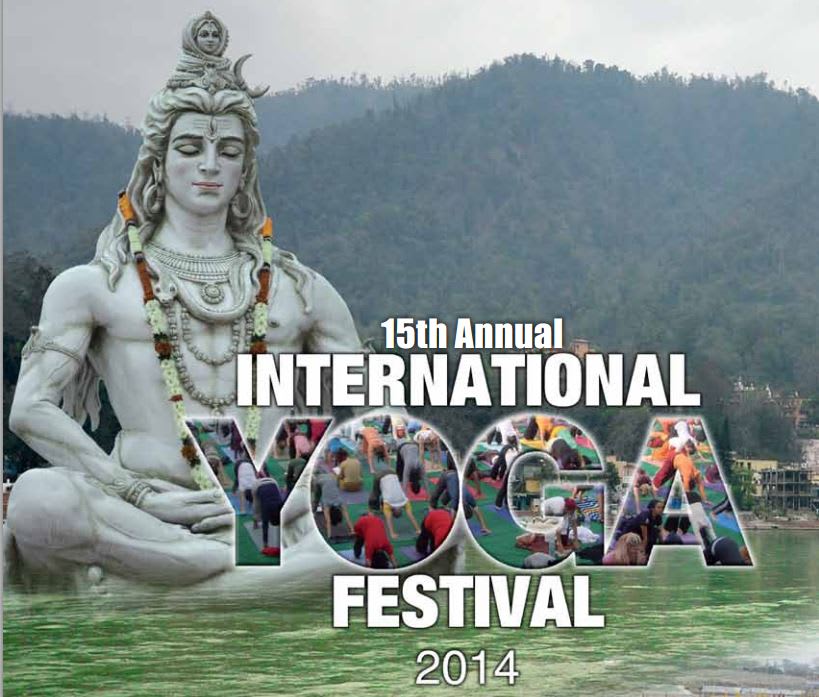 International Yoga Festival is a week long yoga event organized every year and this time in Rishikesh, Uttarakhand; a perfect place for Yoga and Meditation enthusiast. This festival is organized by the Tourist Department of Uttarakhand (UTDB) with Garhwal Mandal Vikas Nigam (GMVN). This year, they are organizing 15th annual international yoga festival that is held on 1st March to 7th March 2014.
The objective behind this festival is to promote the tourism in the hill station by ensuring the equal involvement of local stakeholders, spiritual masters, yoga trainers as well as tourism entrepreneurs. Yoga and Meditation has core elements of ancient Indian wisdom enshrined in the scriptures as well as cultural traditions. Thousands of people, pilgrims and Yoga enthusiasts from all over the world come to Haridwar to take the pleasure of its scenic beauty and the beautiful wholesome environment. They dip in river Ganga which has its own spiritual meaning and practice Yoga and meditation in the clean environment of the whole region.
Highlighting points of International Yoga Festival 2014:
Power of Yog,
Divine Lectures by Famous Yogacharyas,
Divine Ganga Arti,
Cultural Evenings,
Yog Exhibitions,
Yogic Food, Aura Measurement,
Healing with Yog Therapy,
Yog Competition,
Prem Joshua Band,
Free Yog medical camp at the venue
Many prominent Yogacharyas and spiritual gurus like Swami Suryendu Puri Ji, Acharya Ganga Puri, Dr. Amit Rathi, Yogi Charat Singh Nirban, Dr. Trilok Chandra Yogi, Ranjeet Singh Bhogal, Monika Bansal and many others are participating in this festival to express their views about Yoga and meditation. Their speeches as well as manifestation on the various traditions of Yoga, meditation, culture and many other spiritual discourses give new light of life to the participants.
Many self healing techniques which are linked with Yoga like panchkarma, ayurveda, naturopathy, marm chikitsa are the highlights of this festival. This festival showcases the niceties and benefits of many yogic asans as well as yoga poses. The presence of satsang and divine words of many national and international prominent saints made this festival more spiritual. These yoga classes witness the Power of Yoga and provide healthy lifestyle to the participants.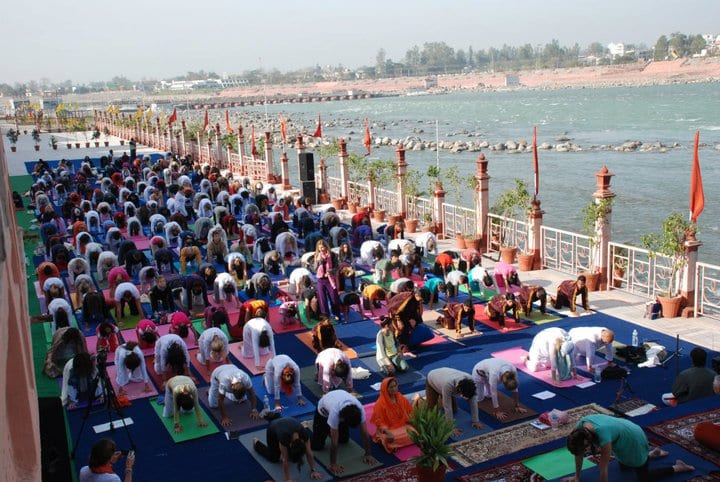 The rising Yogi's of Rishikesh are Acharya Ganga Ram, Jivasu, Acharya Sudam, Amit Koshik, Gaurav Malik, Yogi Naveen Joshi, Divya Sunil Yogacharya, Yogi Amit Ram, Yogacharya kamal Bhatt, Swami Samarpanananda Saraswati, and many others are also going to attend this international yoga festival. Garhwal Manadal Vikas Nigam has already published the detailed Programme schedule for this festival and also reveals the Brochure of Yoga Festival.
Here is the glimpse of this yoga festival schedule:
On 1st March:
Yoga Yatra on Bicycle,
Campus Inspection,
Inaugural ceremony,
Rudra Shanti Maha Yajna,
Divine Ganga Arti
Cultural Programs.
From 2nd to 7th March
Yoga Classes of different Yogis,
Demonstration of Power of Yoga,
Divine lectures,
Meditation and Yoga Practice,
Yoga Competition in Quiz,
Closing ceremony and price distribution are scheduled.
UTDB and GMVN is ready to welcome you with the bouquet of privileges like, Best Yog classes, Yog Lectures by the Experts, Yoga medical camp, Amazing Ganga Aarti, Cultural programs, Food prepared as per the yogic principles but on payment, Various Food stalls available at the venue, Pick up and drop and many other essential needs. The main consideration of UTDB and GMVN is to provide best possible facilities to all the aspirants of the International Yoga Festival. Their solicitous planning with the tremendous care for this week-long festival makes your stay a blissful and pleasant experience in Rishikesh.
Please note that the information provided in this article is based on detailed published on official website. We strongly recommend reviewing recommended links to get exact and updated information on International Yoga Festival 2014 in India.
Image Credit: internationalyogafestival.com