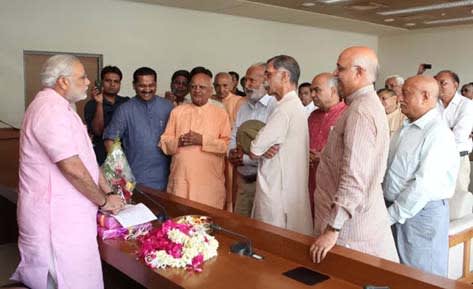 I am very excited to share this news about Inauguration of Lakulish Yoga University by Shri Narendra Modi, Honorable chief minister of Gujarat, India on 23rd May 2013 in Ahmedabad.
Lakulish Yoga University is considered to be first ever private sector self-financed Yoga University in the India. This university is located in Ahmedabad, the heart of Gujarat and will offer Diploma, Degree and Certificate courses in Yoga, pranayama and Ayurveda.
Newly appointed Vice chancellor of this Yoga University Mr. Bansidhar Upadhyay said
"Ours will be the first ever Yoga University in the country which will award fully fledged degrees after three years' course," He added that the admission for 3 years (6 semester) degree courses will start from the same day of inauguration and academic session is likely to be start from 15th June.

He added that the different branches of yoga like Ashtang Yoga, karma yoga, Bhakti Yoga, philosophy as well as anatomy, Ayurveda and naturopathy will be covered in these degree courses.
I will soon share more information about different courses, fee structure and admission process. I also would like to thank Shri Narendra Modi and all other people who directly and indirectly played an important role in making this possible.