Every country has its own culture, customs, value and certain practices that people follow. Qigong is an ancient practice which is also known as the Chinese form of Yoga. It is a complete system of postures, exercises, breathing techniques, and meditation that focus mainly on energy cultivation and working with life energy. It's a part of Chinese medicine. Qigong exercises help to preserve strength and balance the flow of energy within the body. Yang Qigong exercises boost your immune system. It's for all age groups and can be pursued in any health condition. It awakens, cultivates, and shows how to utilize the highest human potential.
Qigong for beginners
Qigong is considered a branch of philosophy and has its roots in Chinese medicine and martial arts. This technique is estimated to be 5000-7000 years old.  It is difficult to trace the exact history of Qigong as it was passed down among monks and teachers secretly for many generations. The first world Conference for Academic Exchange of Medical Qigong was held where many studies were presented to attendees around the world. Modern-day Qigong has 56 forms while there were 75 Qigong forms in ancient texts.
The beneficial effects of Qigong have enabled it to gain recognition around the world. Below are the best Qigong exercises you can try in your daily life.
One Beginning Pose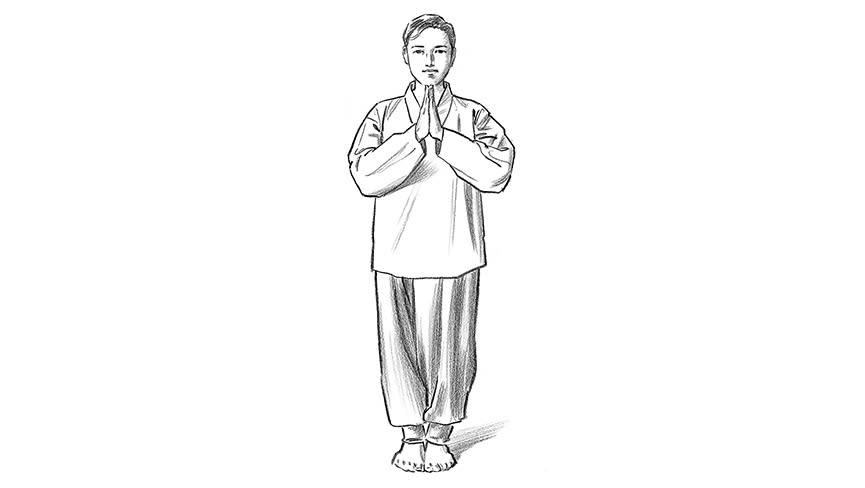 This posture helps in aligning the hips. Stand straight and relax your arms by your side. As you breathe touch the tip of your tongue to the roof of your mouth and relax your jaw. Bring your hands in a prayer pose at your throat and slightly bend your knees. Align the three energy points between head and sacrum by using muscles of buttocks and legs and then gently pulling the perineum forward and upward. Hold this pose for few breaths.
One Origin Pose
From One Beginning Pose, move your left foot at about a shoulder width. Tuck in your tail bone forward and upward with your knees slightly bent. Be in the same pose for several minutes.
One Earth Pose
This pose is also known as a front stance. With the center of gravity at your middle Dahn-Jon, the upper body is to be kept erect. Place your feet at about one and a half to two shoulder-width apart, hands in prayer pose at the throat, and turn toes slightly outward. With a perpendicular spine to the ground, bend your knees and lower torso. Turn your upper part to the left or right. Step one leg in front, bend your knee and step one leg at the back with a flat foot on the ground. In line with your bent front knee hold your hand in front of you in a prayer pose. Hold few breaths and repeat the same on the opposite side.
One Mind Pose
From One Origin Posture, at about one shoulder width between your back and front foot, move your left or right foot to the back. With the heel raised and ball of your back foot resting on the ground, bend your back leg to 90 degrees. Raise your arm; bend your elbow at the side of your head in a block potion with your palm facing outward. Pressing the palm outward put your other arm straight. Towards the outstretched arm, your torso will be slightly twisted. Hold the posture for a few breathes and repeat on the other side.
One Heaven Pose
This pose is also known as the Horse-Riding Stance. In this pose, you have to hold the legs in a bent position for a long period that requires physical strength. This pose also strengthens the thighs. In prayer position at your throat, stand tall and place your feet at about one and a half to two shoulder-width apart. Keeping your spine perpendicular to the ground bend your knees and lower your torso. Breathe even relax your shoulders and hold the pose for few breaths.
One Humanity Pose
Stand tall with feet together and hands in prayer pose at your throat. With legs apart at a distance of about one and a half shoulder width bend your knees and lower your torso. Bend your left knee and slowly straighten your right leg. With your left hand block upward and push forward the other hand at the mid-torso. Lower your body and deepen your pose. Hold for several breaths and repeat on the other side.
Buddha's Breath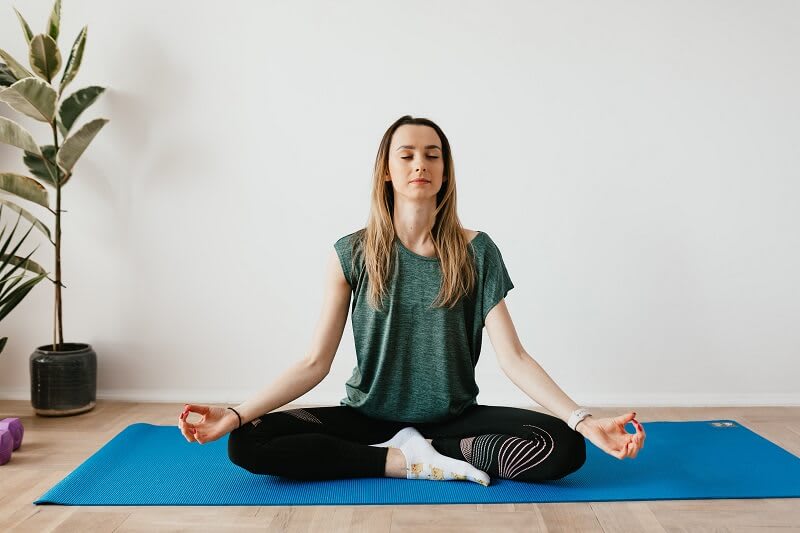 Extend your abdomen as you inhale and filling it with air. While exhaling, expel air from the bottom of your lungs first and then pushing it up until the abdomen and chest are deflated. Practice inhaling at a count of eight and exhaling at a count of sixteen. While doing this close your eyes and experience the flow of energy through your channels.
Daoist's Breath
This is just the opposite of Buddha's breath. In this exercise, you have to contract your abdominal muscles as you inhale. You have to relax the torso and lungs as you exhale.
Gentle Sway
Move your shoulders and arms in a gentle swinging motion. The motion must be initiated from the waist. Do not twist your knees just twist your waist. Your internal organs get a massage as you twist your waist. Now move your arms side to side and then back to front. Slightly bend your knees and sway your hips. This will improve your focus and release your stress.
The Bounce
In this exercise, you have to keep your feet parallel at about shoulder-width apart. Bounce with your knees loose and arms hanging at your sides. The zero position of your arms makes you feel empty and neutral. Shoulders should be in a natural position that gives you a feeling of deep relaxation.
Accordion
Close your eyes and bring your attention to your palms. Breath slowly without force. Bring your hands together, touching the palm chakras and fingers pointing upwards. Keepings the chakras aligned slowly move your hands using the least amount of physical effort. Compress the air between hands like an accordion. Feel a warm sensation on your palms. Repeat the technique in different directions.
When these exercises are done properly regularly it leads to relaxing the mind, muscles, and inner organs. It improves blood circulation, relieves stress, and restores health