Yoga is 5,000 year old spiritual and mental technique of recognizing our inner self. It is truly all about self-acceptance and self-realization. It brings harmony between body, mind and soul. It simply means to make a relation of an individual consciousness with the universal consciousness. There is a very common myth with Yoga, that it only includes some physical exercises or postures but it is a far big term than just physical exercises. It is the way of living that helps to unfold the infinite potential of an individual mind and soul.
Due to its commendable significance to the body and soul, this ancient technique gained worldwide recognition. On December 11th 2014, 69th session of United Nations General Assembly announced a particular day to celebrate Yoga, i.e. 21st June. Now every year, 21st June is celebrated as an International Day of Yoga.  On this great day, many events are organized where millions of people are invited to attend these events. One can attend any of the events by selecting your country, type and month of the event.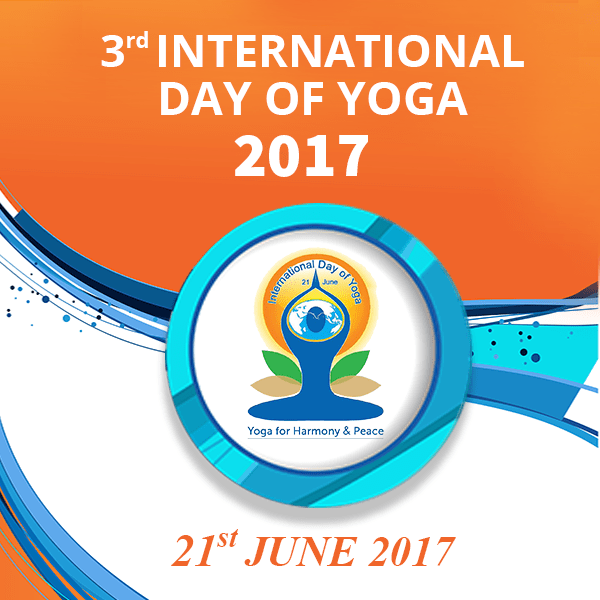 International Yoga Day by Indian Government:
Indian Prime Minister, Mr. Narendra Modi also appreciated yoga during his visit to UN General Assembly on 27th September 2014. Even Modi ji is a regular follower of yoga and very impressed with its benefits. He said, Yoga is a most precious gift of our ancient culture that brings harmony between an individual and nature. The science of yoga is promoted throughout the world. USA, Canada, China and many other 175 countries also supported this resolution. He wanted to celebrate one particular day for Yoga and stated 21st June; the summer solstice is a longest day of the year that's why this is an ideal for celebrating International Day of Yoga. This day has some special significance for many parts of the world.
One of the most popular Spiritual leader Sri Sri Ravi Shankar, applauded the efforts of Narendra Modi for giving such a worldwide recognition to Yoga. He said, it is very difficult to promote any culture or religion without the state support and this official recognition by UN will surely spread the amazing benefits of yoga throughout the world.
This year, Yoga Day 2017 is going to celebrate in all around the world and the government of India has organized various programs to increase the awareness of Yoga. We will keep this post updated with more information about Yoga Day Celebration in India 2017.
Archive from 21st June 2015
PM Modi to Practice Yoga with Kids at Rajpath on International Yoga Day:
Mr. Narendra Modi has announced to practice yoga with kids on this International Yoga Day. At Rajpath, he will celebrate this day with the kids and organize a big event where around 16,000 people are expected to participate. Really, this event is going to be a very big and this largest number of participants will also be recorded in the Guinness book of world record. Many Yoga Gurus of different countries are also invited to participate and celebrate this day. Modi ji has been a big follower of yoga disciplines that's why he is very excited to celebrate this day.

International Yoga Day: Government Tells Secys to Join PM Modi-led Yoga Day Session:
With this day of celebration, The Government is trying to get a good turnout and for this, health ministry has issued a circular to attend the function. All rank officers are invited to participate in this 35 min function, held on Rajpath at 7 A.M. All the people are requested to perform yoga asanas. Though, any particular asana is not yet decided but on this day some basic asanas like Surya Namaskar, Natrajasana, Padmasana, Vajarasana, Bhujangasana, Balasana and many more can be performed on this day. Government is trying to achieve around 45,000 turnouts for the event, which is not an easy job. All the participants are not experts of Yoga asanas and even they are not regular practitioners so those postures will be practiced that need some physical fitness only. Practicing yoga should not create any trouble for the participants.
Now, UGC Wants Varsities to Celebrate Yoga Day:
Celebration of International Yoga day was first proposed by the Prime Minister of India at the UN General Assembly and all people of the Assembly highly appreciated his efforts and thoughts towards rich Indian heritage. The Government of India has decided to pass a resolution to promote Yoga globally and declared to celebrate first International Yoga Day on 21st June in a particular manner.  UGC, University Grants Commission also supported this effort and asked to all the universities to celebrate this day. Mr. Jaspal Singh Sandhu, secretary of UGC issued an official letter to follow Yoga Day. He said, this International Yoga Day will be celebrated in a same way as Teachers' Day, Friendship Day, Valentine's Day and many other special days are celebrated. Yoga is a pride of our nation and we must celebrate it. It acknowledges the heritage of our nation. Really, it would be a good step to highlight the significance of yoga among the youths of the country.
Yoga Day Celebration by Gujarat Government:
Gujarat government is also going to celebrate this International Yoga Day in order to spread the significance of yoga throughout the state. Gujarat Government is well-known to work towards the development of the state and make people healthy. Government wants to celebrate this event enthusiastically and gets the crowd of around 1 crore participants including district collectors and education officers. They want to make people aware about the yoga and create good healthy environment. This event will be organized in different locations of the state and held on 21st June.
This International Yoga Day will be celebrated throughout the world and on this day many events are organized to spread the awareness of Yoga.
Image Ref: International Day of Yoga