FaceCradle Review

Long flights and long rides are always tiring. Sitting in the same position with nothing to do except watch a small TV screen is never relaxing or enjoyable. The problem gets worse if you don't have a comfortable place to rest your head and get some rest. Inappropriate sleeping positions can lead to neck strains and sore muscles.
This is why traditional portable sleeping pillows were created. But they don't truly solve the problem. The traditional pillow lacks flexibility and limits the number of positions you can engage. This is how and why FaceCradle was conceived and created. It is a "multi-mode" sleeping pillow because it is adjustable.
How FaceCradle Pillow Works

A crowd funded project initiated by David Scrimshaw and Roz Ruwhiu, FaceCradle uses an innovative internal frame that can be adjusted to present five different modes to support sleeping comfortably. The hinges present the FaceCradle can be adjusted to several positions allowing travelers to find their most comfortable position.
While the product comes with a manual, you will easily understand how the FaceCradle can be adjusted to present extremely comfortable sleeping positions while you are seated.
FaceCradle Sleeping Modes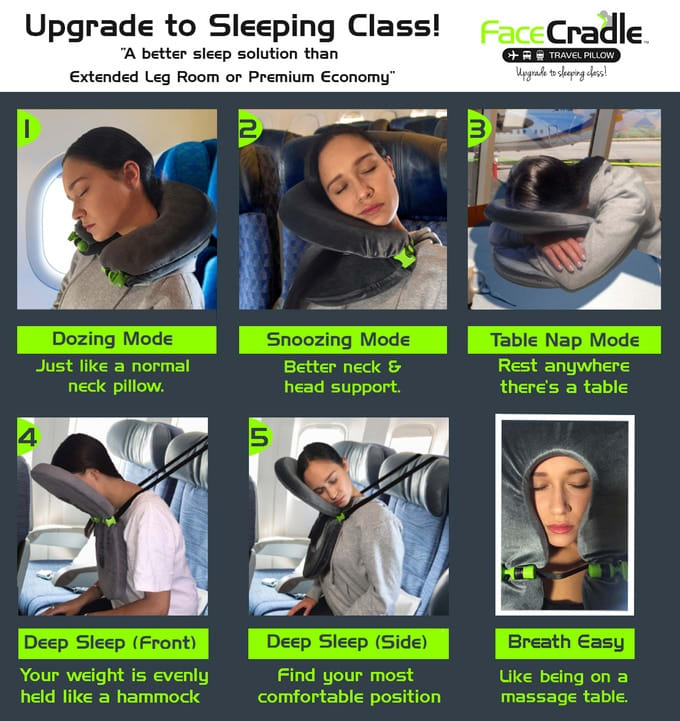 #1 Dozing Mode:
This presents what most neck pillows provide. This is a great mode for short naps or when relaxing with your eyes open perhaps while reading a book.
#2 Snoozing Mode:
Many of us prefer to doze off as if leaning on our pillow at home.  In this mode, the upper part of the pillow can be rotated to provide support for your head and neck.   This versatility makes it a perfect add on to your plane, train or bus journeys.
#3 Table Nap Mode:
In the same position as Mode 2, you can use any flat surface to support your FaceCradle and lean into it to rest or nap. You can prop it higher using your bag or an Airline pillow if needed.
You can use FaceCradle on a tray table on a plane, a table at the gate, a lounge or café. Or even in the office or library, to take a power nap if you're feeling fatigued.
This position immediately makes you feel as if you are lying on a massage table. You feel relaxed and at ease, the minute you place your head onto the FaceCradle. The design ensures your nose and mouth is unrestricted so you can always breath with ease.
#4 Deep Sleep:
Designed for long flights the Deep Sleep mode allows you to find your most comfortable position by leaning forward.  This presents you can lean your face against the pillow while it is secured to the back of your seat or winged head rest.  The pillow is very soft and has been designed to absorb the bumps of flight and keep you comfortably asleep.
#5 Deep Sleep on the side:
Similar to the above mode, you can secure the FaceCradle in a way so as to sleep with your face turned to the side.
 FaceCradle Material & Comfort
Since you will be resting your face on the pillow for a long time, it is important that the fabric be soft and comfortable – and it is!  FaceCradle is made of luxurious and soft velour fabric and memory foam that will not feel hard or rough against your face.  The FaceCradle provides the same kind of comfort you experience when you are in bed at home.
Cost of FaceCradle Inflatable Pillow

Travelers know that a good sleep is always precious.  Whether you are going to a business meeting or off on vacation, taking a good nap always restores the energy and vigor you will need when you land.
As of now, FaceCradle is available at $69.95 across the United States and with free shipping.  Soon it will be locally available with retailers and wholesalers.  You can purchase FaceCradle at www.facecradle.com
Overall if you are a regular traveler and have trouble sleeping when on the go FaceCradle is the answer to solve these issues.  Face Cradle will be a great investment.  Go for it!