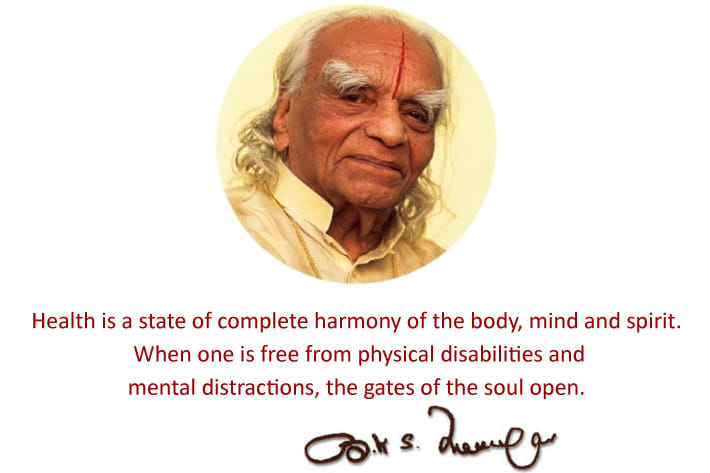 YogaCurious take immense pleasure to inform you that our beloved yoga teacher and leading personality in yoga shri B. K. S. Iyengar awarded Padma Vibhushan on 26th January 2014.
B. K. S. Iyengar originally called as Bellur Krishnamachar Sundararaja Iyengar; was born on 14th December, 1918. Iyenger faced many health problems like typhoid, malaria and tuberculosis in his childhood. Teaching is his innate quality as his father; Sri Krishnamachar was also a school teacher. This well-known yoga guru is a founder of Iyengar Yoga and educates yoga in his own unique way to their students. His style of teaching is referred as "Iyengar Yoga". He is really a living legend and considered as one of the leading yoga teachers of all over the world. In fact he is an oldest yoga teacher internationally who have 75 years experience in teaching yoga. At the age of 16, he was initiated his career as Yoga teacher under the guidance of his guru named as Sri T. Krishanacharya. He believes that your health will be determined by the situation of your body, mind and soul.
Today, this name needs no introduction. He is a man called as "Michelangelo of yoga" Iyengar wrotes many Yoga books like "Light on Pranayama", "Light on Yoga", "Light on the Yoga Sutras of Patanjali", and all are well famous globally. He put light in the every aspect of yoga in these books. He is the only person who lays more emphasis on meticulousness, which brings an automatic transformation in the student's minds and can change their habits also. He believes in Atma Darshan through yogic asanas. He is praised by several famous personalities like Sachin Tendulkar,Naseerudin Shah, Murli Manohar Joshi and so on. This Yogacharya offer yoga classes throughout the world and the most admired personality who has been recognized for the ultimate contribution in Yoga firstly in India and then move ahead to all around the world. Iyengar has more than 30 thousand yoga students from the 57 cities of China. There were so many popular Yoga videos by Iyengar on Youtube.
Padma awards are called as highest civilian awards of the country, awarded by the Government of India to the Indian citizens for their extraordinary contribution in various fields like Education, Literature, Medicine, Arts, Science, Social Service and public affairs and so on. The word "Padma" implies "lotus" in Sanskrit. Padma Awards include three categories i.e. Padma Shri, Padma Bhushan and Padma Vibhushan. These awards are announced to the Republic Day every year. As every year, this year the Union Government of India on the eve of the 65th Republic Day function, declared the Padma Awards for 2014.
B.K.S Iyengar, "king of yogis," won Padma Shri award in 1991, Padma Bhushan award in 2002, and Padma Vibhushan in 2014. In 2004, Iyengar named as one of the 100 most influential people as per the Time magazine. B. K. S. Iyengar is universally acknowledged as the world's greatest yoga teacher. He writes so many books and still doing practice in Yoga. The sincere and dedicated efforts of Guruji in the Yoga field provide many people a new light of living. He is considered as a perfectionist in various yoga asanas. This legendary person now got huge recognition all over the world due his remarkable yoga teachings.