Most days, I go to my regular job, wearing regular clothes and type regular things into my regular computer until it's time to go home. My co-workers know me as Joe, that guy with enough banter to be social, but not so much he gets distracted from his typing. Joe is a good guy. Familiar,  Dependable. You know the type.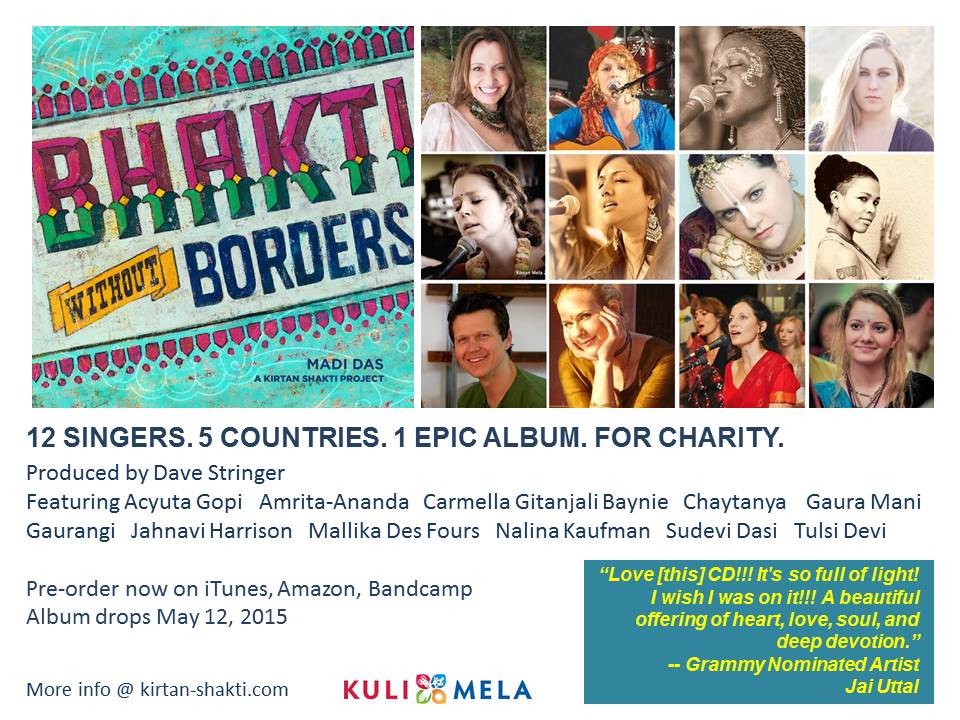 But on Tuesday nights, I trade my collared shirt and GAP slacks for a kurta and sweats, grab dinner with my family, before driving to a local kirtan gathering. Kirtan is the tradition of sharing music as a way of connecting with The Divine. The practice has emerged as a hot new sub-genre of Yoga music, spilling from studios and festivals onto radios and podcasts, climbing charts and courting Grammys. Yet the roots of kirtan go back centuries.
My introduction to kirtan happened with my birth. If my mother wasn't hollering Sanskrit with each contraction, it was only because she was saving her voice so she could chant me through the coming days, months and years. She and my father (both die-hard Bhakti Yogis) would drag me to kirtans every day, introducing me to harmoniums, cymbals, drums, while they sang and swayed.
By age seven I was sent toa boarding school in Vrindavan, a town 100 miles south of Delhi. There, mornings began at 3:30 am when students stumbled to the day's first kirtan. Though I cannot promise I was awake throughout these slumbering sing-alongs – nodding off, bumping into fellow students — I could feel the music steadily seeping into my veins over the next eight years. Like it or not, Kirtan was the quintessential soundtrack of my youth.
When I moved back to the States to attend college, the transition did not come easy. Faced with a pimply Caucasian with an Indian accent, Santa Monica College students were bemused. "Why are you talking like Apu?" They inquired. "We get it. You can do an Indian accent. Please stop."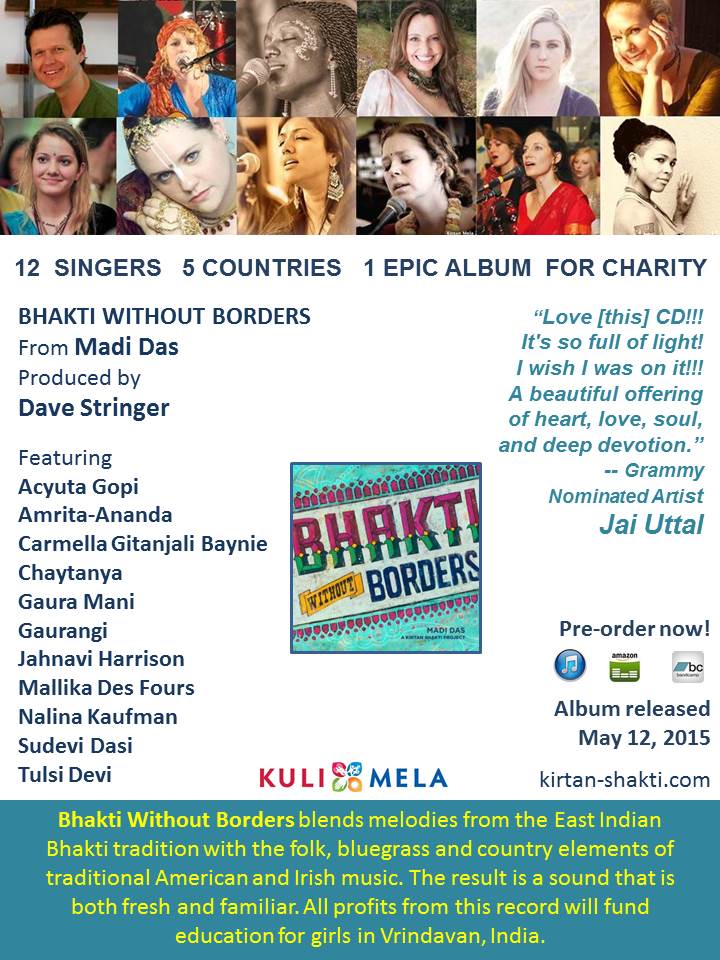 Since they didn't understand my culture, I decided to learn theirs. I began listening to Chumbawoomba and HootieAnd the Blowfish, wearing wide-flared jeans, and quoting lines from Pulp Fiction. Over the next decades I assimilated into California culture, reverting to my legal name of Joe (average Joe!), attending film school, working a nine-to-five, buying a house, health insurance, taxes, the whole nine yards.
Then in 2005 my wife and I went back to Vrindavan and the sights and sounds of my youth rushing back. Suddenly, I was home. I took the opportunity to catch up with a childhood friend, Rupa Raghunath. Rupa had founded Food for life Vrindavan, a charity organization providing education and healthcare to village girls who would otherwise be forced into child labour and teen marriages.
"We are trying to take care of the lowest strata of this dysfunctional society." Rupa explained as we toured his school. "The poorest of the poor… they are forgotten… in a sense they don't exist."
Seeing the beautiful classrooms, the kitchen where student meals were cooked, and the rickshaws that brought them safely to school was humbling. Rupa had dedicated his life to combating poverty while I had left my Indian friends and escaped to the luxury of the West. Saying goodbye, I knew I needed to help.
Back in the Los Angeles, my wife and I worked and sent what little we could to Vrindavan. I continued to enjoy kirtan as a way of staying connected. In 2010 we welcomed our daughter, and two years later, a son. Becoming a parent opened my heart more than I ever thought possible. It became evident that I had to do more to help the children of Vrindavan, many of whom reminded me of the friends of my youth.
I decided to produce a kirtan record; an album that could grow into something bigger than the immediate audible experience; something that could continue to effect change even after the music stopped.
The project was called Kirtan Shakti — Shakti being Sanskrit for Goddess Power.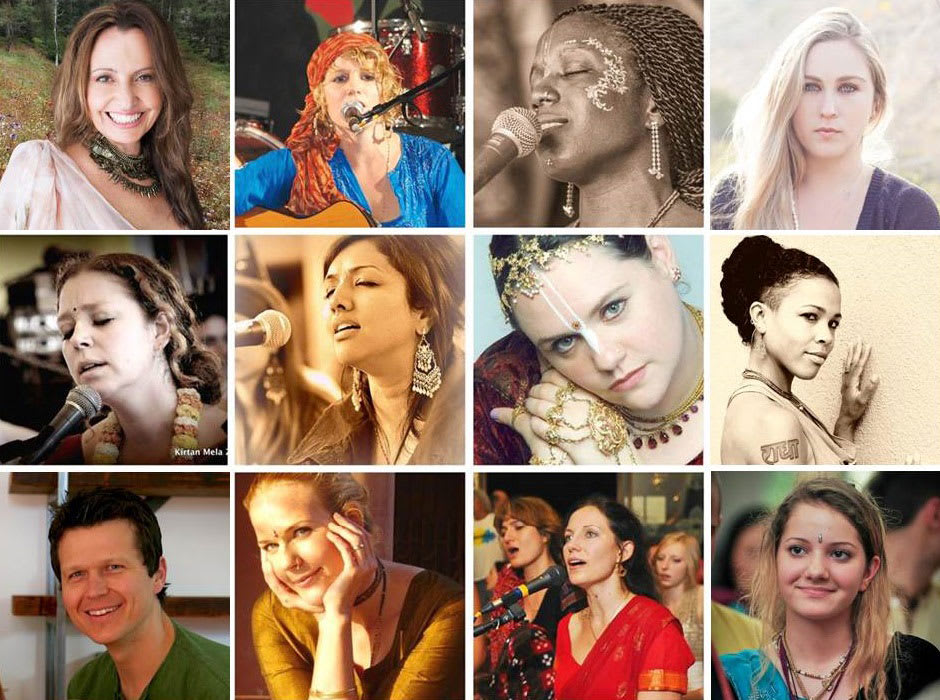 The idea was to collaborate with a group of talented female kirtan singers from around the world, to record a charity album. I had no idea if the project would be supported, but I was quietly hopeful.
"So many people visit India, and they take something from this country" I told my early donors. "Knowledge, wealth, food and art, But with this album, we want to give something back to this magical place."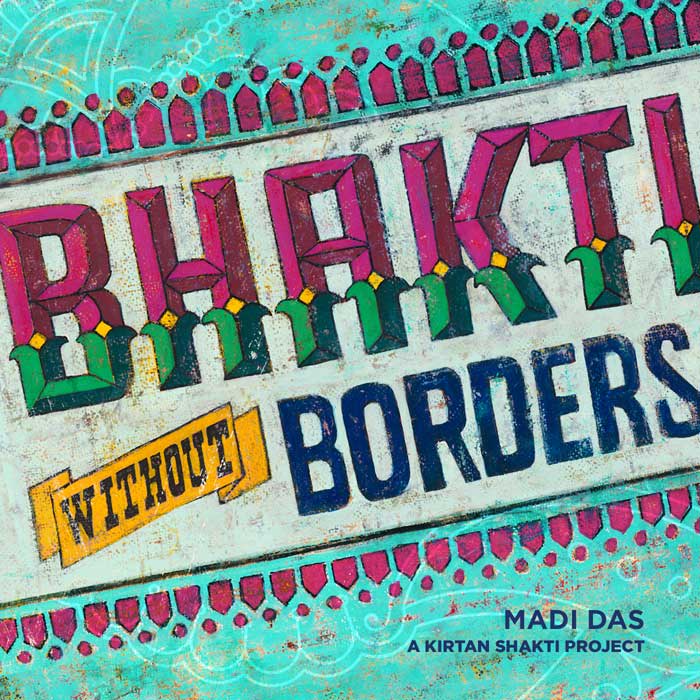 We launched the project in April 2014 and were met with an outpouring of support. By summer, I had teamed with singer-producer Dave Stringer and we were deep in production. I wanted to make a record grounded in my personal kirtan tradition, but with the familiarity of folk, country and bluegrass. And I wanted to record under the name of my childhood, Madi Das. The result was Bhakti without Borders.
Over the next six months we recorded eleven kirtan divas, each with their own flavors — a hint of jazz from London, a spritz of gospel from New York, some soul from Sydney, adding to the eclectic global mix.
The process was exhilarating and exhausting. I went to work, came home, put the kids to bed, and then snuck off to the studio. Some nights we were up till 2am refining arrangements, polishing tunes. During the day, the bags beneath Joe's eyes grew ever darker as I plugged away at my computer, trying not to nod off at my desk.
If the months were tiring the music was thrilling. This was what I had been craving: a connection deeper than an accent, an identity both individual and collective, an opportunity to be as regular or super-duper-irregular as we'd liked, where extraverts could burst into solos of ecstasy while shy singers could hum in harmony, where each of those participations was perfect. No judgments. By January the album was mixed and mastered, and by March we were ready to print.
Now when I sit in my Tuesday kirtans, I am peaceful and excited. Excited to share my music with the world, eager to spread our goal of funding education, elated to have worked with so many wonderful people, to have made music that is authentic and accessible. And when I sit at my desk, and prepare to type regular things into my regular computer, I take a second to plug in my headphones… and I grin. Because with kirtan in my ears I am both at work and at home.
I hope that this humble offering inspires kirtan aficionados and new comers a like. The record will be released on May 12th, 2015. More info at www.kirtanshakti.com