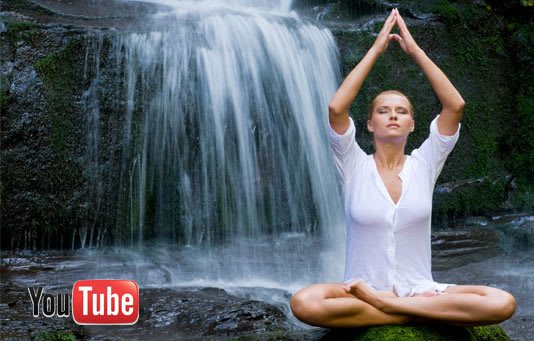 Morning is the best time to practice yoga sequences but for some yogis, it is challenging to get up early in the morning. If you are one of them and need some motivation to start your day with morning yoga, here are few beautiful morning yoga videos featuring mindful yoga sequences for you.
#1 MORNINGS – Krista Marie Starr ~ Yoga Teacher
One of my favorite and the most beautiful morning yoga video sequence which is a part of Morning; an unique video series of short films looking at unique morning rituals. You can see Yoga teacher Krista Marie performing wonderful yoga sequences with such a lovely background music score provided by Alister Johnson. This 6 minutes of video will rejoice your day with lot of energy and positive feelings for sure.
#2 Morning Yoga – Yoga with Adriene
This morning yoga video contains 20 minutes of gentle yoga sequences by Adriene Mishler, a yoga teacher from Austin, TX.  This yoga video is for all level of yoga practitioner want to start their day with wonderful yoga sequences.
#3 Morning Yoga Flow, all levels
This morning yoga video by Esther Ekhart contains yoga flow for all levels. Esther is the founder and experienced yoga teacher at Ekhartyoga.com. This is one of the most popular yoga videos on YouTube with over 518,748 views and 267 comments. It will help to wake up the body and mind.
#4 Simple Morning Yoga Routine
In this video, simple morning yoga routines are explained by Nadya Andreeva, a wellness coach for women. She is also supporting women in improving digestion with Ayurveda. View and start your morning yoga practice and stay energized for whole day.
#5 Morning Yoga – 15 Minutes to wake up for a Beautiful Day
Start your beautiful day with this 15 minutes morning yoga video containing beautiful asanas and prepare your body for the entire day. This video contains 15 minutes of yoga sequences by Zev Tambor, a yoga and aikido practitioner.
#6 15 Minute Morning Yoga to Wake Up
This 15 minutes morning yoga to wake up is for someone looking for a gentle yoga sequences by Candace, an International yoga instructor and founder of YogaByCandace. This gentle yoga sequences is also recommended for the people with arthritis. This morning yoga sequence video is one of the most popular yoga video on YouTube with 189,136 views.
Do you know about such wonderful and motivational morning yoga video sequences to add in our list? do write us or share your comment here in this post. Our team will add your recommended video into this blog post.
If you want to connect with us and get daily updates for Yoga, Health and Fitness.
Follow us on Our Social Media Channels:
Twitter : https://s://twitter.com/yogacurious
Google+ : https://s://plus.google.com/+Yogacurious/
Facebook : https://www.facebook.com/yogacurious