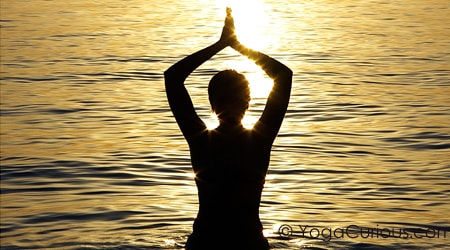 Numbers of research has been conducted on therapeutic use of yoga and it is scientifically proved too. In our today's interview with Rowan Lommel, you will learn about benefits and important of Yoga Therapy in our life based on her vast experience as a yoga therapist and yoga teacher.
Rowan is a founder of Yogapotentials.com, yoga therapist and registered yoga teacher by the Yoga Alliance having over 20 years of experience in practicing yoga. She has been teaching yoga since 2001.  She trains teachers at the New School of Yoga.  She also facilitates workshops at the Krishnamurti Foundation.  She lives in Ojai, CA with her husband, 5-year-old son and Cockalier Spaniel. She trained yoga by Mekhala Desikachar, TKV Desikachar and his students. She took her intensive yoga training in India at the Krishnamacharya Yoga Mandiram in Chennai and at the Healing Yoga Foundation in San Francisco. Her area of expertise are Yoga Therapy and Vedic chanting and organizing various yoga events, private yoga lessons and presentation on yoga in Ojai and Santa Barbara.

Checkout Her profile on LinkedIn: Rowan Lommel
Let's begin with interview:
Yetta: Dear Rowan, can you begin by telling us how you started your journey with yoga?
Rowan Lommel: I started yoga when I was a child growing up at schools founded by J. Krishnamurti. My first teacher was Sonia Nelson, who is a long-time student of TKV Desikachar and founded the Vedic Chant Center of New Mexico. My father was one of her students and he also taught me about yoga. My mother also took me to yoga classes in downtown Ojai. But Sonia and later Chandra, my teacher from Brockwood Park School in England (another Krishnamurti school), gave me practices that I did for years.
In 2002 I was asked to teach. I went to India in 2003 to study at the Krishnamacharya Yoga Mandiram in Chennai, India. TKV Desikachar and his family were still teaching there at that time and very active at the school. I got to work with them privately and in groups. When I returned to the US, I continued to study with the Desikachar family when they would come to give workshops.
I didn't do a teacher training until 2007, when I went to the Healing Yoga Foundation in San Francisco and studied with Kate Holcombe and Chase Bossart. Desikachar also worked with our group, and my mentor was Mekhala Desikachar, his daughter.
I had always wanted to do a yoga therapy training in the Desikachar/Krishnamacharya tradition, so in 2014 I embarked on a 3-year training in Chennai at the Sannidhi of Krishnamacharya Yoga, where the Desikachar family now teaches.  My mentor is Kausthub Desikachar, who I deeply respect and admire.  He has been through a lot and his teaching has only gotten stronger.  Please read my interview with him at Huffington Post.
Yetta: What is your favourite yoga practice and how does it benefit your life?
Rowan Lommel: I have a daily practice that I do every morning. Since my breath is new every day, the practice itself feels new. I also am in love with the practice of Pranayama, as well as Vedic Chanting.  I'm restarting my Vedic Chant class here in Ojai, and I'm very excited about this. My yoga practice has always created a space where I can be with whatever is going on inside, the daily things and the more traumatic things that can happen in life. Yoga supported me through the pain and the grief that came with the most challenging times of my life, the illness and death of my mother and the mental illness and suicide of my brother.
Yetta: Since when have you been practicing yoga and what was your source of motivation?
Rowan Lommel: I have been practicing yoga since the early eighties. My motivation was different at different times in my life. Mainly the motivation now is the sense of health and clarity supported by yoga, not to mention that the challenge is fun!
Yetta: What does yoga therapy have to give the world that is unique?
Rowan Lommel: Yoga therapy offers a healing modality that approaches the mind – body as a holistic system.  It is a self-empowering process.  It requires the patient to be an active part of his or her own healing process; the patient actually has to do the practice to receive any benefit.
The fact that breath is so fundamental to any yoga therapy practice makes yoga unique from other healing modalities. Yoga uses breath in ways that can seem outwardly simple, but are very subtle. It can also use breathe in more intricate, precise ways. Yogic culture in India explored breathing more deeply than any other culture. There is a lot to learn there, and a lot of benefit that can be experienced from conscious breathing.
The use of sound in yoga therapy also makes it a very unique approach, one that Desikachar developed and emphasized.
I recently coordinated and taught in a workshop with Sonia Nelson that we titled 'Discover Your Healing Voice'. When people authentically discover their voice it truly can have a very powerful benefit from a yoga therapy viewpoint. The use of sound in yoga practice can affect us on many levels: body, breath, mind and heart.
Yetta: When did you decide to dedicate yourself to yoga personally and professionally?
Rowan Lommel: I started teaching yoga in 2001, but at the time I had just finished my BA at Smith College, and I wanted to get a master's degree. My majors in college were French Literature and Theater, and I decided to pursue further studies in Theater. So I went to a wonderful school in Humboldt County, California, called Dell'Arte. However, I woefully missed doing yoga, and I was a horrible student, I was even put on probation! All I could dream about was teaching yoga. I even wrote Erich Schiffmann lamenting to him about it. So I finished the year, and got two very good internships in New York with avant guarde theater companies. I studied at one of Patabhi Jois' main students' studios doing a very intense Ashtanga practice. While practicing there I hurt my neck when forward-folding into uttanasana. My father said, 'give it a rest!' and thankfully Sonia Nelson came to the city to do a chanting workshop (she now also focuses on Vedic Chanting) and she said, don't do Ashtanga, go study with Leslie Kaminoff, so I started going to his studio, the Breathing Project.
Then my brother got seriously ill, and I came back to Ojai to be with him. Sonia was doing a workshop at Loyola Marymount University in Los Angeles, which I attended. She encouraged me to go to India to study at the Krishnamacharya Yoga Mandiram in Chennai. I spent 3 months in India, any drive left to work in theater fell away like an old skin. I also reconnected with the work of Krishnamurti in a much deeper way. After that, my focus was very much on teaching yoga and working at the Krishnamurti Foundation here in Ojai.
Yetta: What do you love the most about teaching yoga?
Rowan Lommel: I love most about teaching yoga the challenge of helping another feel better physically and psychologically. I am constantly surprised at how the breath is such an effective tool to address issues of body and mind. Our minds are so busy these days; the tools of yoga can effectively slow down the physiological processes, thereby reducing excess stress and all that goes with it. I am grateful to be bringing my two passions together at the end of this month by co-facilitating a retreat on Krishnamurti and yoga, entitled Yoga and Self-knowledge (www.kfa.org/yoga).
Yetta: According to you, what are the greatest health benefits of Yoga?
Rowan Lommel: The greatest health benefits are a dynamically tranquil mind. One of my favorite meanings of the word yoga is sannahana (from the Amarakosa), which means protection.  Yoga can help us in the healing process when there is disease, but perhaps more importantly, can be a preventative measure that protects our prana and our state of health. And if our yoga practice can help us to link with our heart of hearts, that is the greatest health benefit for the individual and the world.
Yetta: Why is yoga therapy training so important for yoga teachers?
Rowan Lommel: A serious yoga therapy training is important for those yoga teachers who see the healing potential in yoga, and who are interested in meeting each individual human being where they are, and adapt a practice specifically to them as individuals in unique circumstances.
The field of yoga is growing very fast, and as people start to mature in their view about yoga, we will see how yoga with all its tools—not just asana—can be used for healing. But as long as we do yoga just to get the 'yoga bum', so to speak, we may miss the contribution that yoga offers to the healthcare field.
Ultimately yoga is for the mind. I hope that the next frontier that yoga will work in is for mental illness. There is already a lot of work being done in that area, for example, people are realizing that yoga can help with depression, anxiety, and sleep disorders.
In my yoga therapy training (that is extremely in depth, and totals over 1200 hours) our teacher Kausthub was explaining that group classes can be therapeutic, but yoga therapy is always one-on-one. When one starts to see that individuals are extremely unique in what they are dealing with in all levels of their body-mind system, one starts to see the profound importance in a yoga that can adapt to meet the needs of the individual. To explain, TKV Desikachar talked about going to surgery, would a surgeon do the same operation to a whole group? No, he would operate on each individual in a unique way, even if the whole group had the same disease.  Krishamacharya called yoga 'surgery without surgical instruments.'
That being said, there is benefit to therapeutic yoga in a group context. I am starting a teacher training in therapeutic yoga, it's a foundational Yoga Alliance accredited 200-hour program that will teach the fundamentals of yoga as cikitsa (therapy). I'm very much looking forward to working with a small group in-depth sharing of the healing possibilities of yoga.  Two hundred hours can only be a foundational training though.
Yetta: Important Yoga props and accessories you recommend for Yoga learner or beginner.
Rowan Lommel: I don't place too much importance on props.  Perhaps a yoga mat is important, but one could even use a towel. What is more important is a good relationship with a competent yoga teacher.
Yetta: What can someone expect to experience in a Yoga Therapy session?
Rowan Lommel: One can expect an initial consultation session, which is sometimes, especially in India, with a senior teacher. In that session there is conversation and observation. I start to learn about the person, how they are doing, what are their mental, physical and possibly spiritual challenges. Then we choose a direction to work in, and I give them a practice. Then I ask them to follow up with me at least a few times so that we can (1) establish a positive practice and (2) develop the practice to meet their changing needs.
Patanjali gave a few requirements for a yoga practice, and I think this applies to a yoga therapy practice also. The practice must: be done consistently for a long time—and perhaps most importantly—it must be enjoyed.
Yetta: What advice would you give a well-practiced yogi to take their practice to the next level?
Rowan Lommel: Have they understand how to coordinate breathe and movement? Do they have a personal practice that comes from a qualified teacher? Have they become students of the subtle aspects of breath that yoga has to offer? Have they gone into the foundational texts of yoga? Have they explored the beauty and power inherent in Vedic Chant? Are they studying mudras and bandhas with a competent teacher? (One has to be careful with the subtle tools of yoga. The more subtle the tool is, the more care required.)
Yetta: What advice would you give yoga beginners to motivate themselves?
Rowan Lommel: Work with a teacher that you connect with, someone who is well-trained and that inspires you as a person. According to the myth of Patanjali, he has 1000 heads so that he can teach 1000 ways.  The right teacher will learn about you, and adapt a practice specifically to you.
Yetta: Here is the brief information about Yoga Book Recommended by Rowan
Book Title: The Heart of Yoga: Developing a Personal Practice
Price: $12.18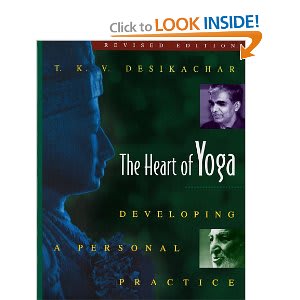 Yetta: Recently I read your article on Yoga and how it is helping one of your students suffering from cancer. What advice will you give to people facing same problem.
Rowan Lommel: Yoga focuses on the person, not the disease. As a yoga teacher I look at the whole system, the state of a student's body, breath and mind. There is a lot involved in having cancer, both physically and emotionally. We are all dying, but when one has a terminal illness like cancer, it brings an additional sense of uncertainty. Working with people who are seriously ill can open up a space where they feel comfortable sharing their anxiety. It can allow them to reduce stress in the body and counteract the negative effects of treatment, such as nausea. And yoga can allow them to link with a greater spiritual wholeness, which is invaluable when facing death. In general, yoga supports a person's health holistically; appropriate tools reduce stress and enhance well-being. But every person is different. What works for one person with cancer may not work for another. So as a yoga therapist I must be adaptable to meet a particular person at a particular point of time with their particular needs. It would be wrong to say, for example, for cancer of the liver do forward folds. This is why it is important to meet one-on-one with a competent yoga therapist. I would advise a person facing cancer to find a good yoga therapist, as well as continuing to work with an oncologist they trust.
Yetta: In today's era, all are busy with work and all. Which asanas you suggest our readers that can be performed in small timestamp and can help to tone whole body?
Rowan Lommel: There is no 'one size fits all' to yoga. There is no one asana that I would recommend everyone practice. I would recommend however that your readers consider working with a yoga teacher who can help support them with a personal practice. A good teacher can help develop a yoga practice that will match their student's ability and schedule.
Yetta: Please share some information about your brand, books or about your website.
Rowan Lommel: My website is Yoga Potentials (made by my fabulous husband Michael) and the website for my yoga teacher training is New School of Yoga. We organize yoga education events and teacher trainings in Ojai, California.  (Our next event is a workshop with Kausthub Desikachar in September in Ojai on mudra-s and bandha-s:  https://yogapotentials.com/mudra-s-and-bandha-s-kausthub-desikachar)
Yetta: Say few words for our readers…
Rowan Lommel: I love what T. Krishnamacharya says in his beautiful chant Yoganjalisaram:
Regulate the breath, be happy; link the mind with the Lord in your Heart.
That is what I wish for your readers and all those discovering the magic of yoga.
Yetta: Thank you very much Rowan for sharing your experience with our readers. Namaste !
If you want to share your yoga experience with our readers, do contact us, We love to arrange yoga interview with you and share on our official yoga blog.